Ivan Miguel Hernandez Morales
MSc Logistics and Supply Chain Management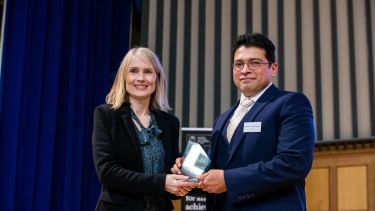 Member of The Dean's List, class of 2019
Ivan has actively pursued opportunities to improve his employability skills and experience, and he was praised for proactively promoting collaboration and friendship among his fellow students.
Improving career prospects
Early in his studies, Ivan competed to secure a Company Project for his dissertation, which he approached as a personal challenge to expand his career prospects and gain experience working on a research topic for a real company.
To broaden his perspectives on the career paths available to him, Ivan attended a PhD Open Evening, and completed the Business Sheffield Migrapreneurs Training Programme, which supports migrants in entrepreneurship. 
He completed study skills workshops in the School's Employability Hub, met with a Careers Advisor to improve his CV, and participated in a Careers Connect Assessment Centre workshop to develop his employability skills.
Developing a professional network
Ivan participated in the Chartered Institute of Logistics and Transport (CILT) Annual Northern Seminar, where he had the opportunity to meet CILT representatives of the rail transport system and learn more about their work.
He succeeded in obtaining a scholarship to attend an International Summer School at Manheim University, where he also found networking opportunities to meet professionals from Freudenberg Sealing Technologies. 
Proving a commitment to the community
After applying for several volunteering positions, Ivan secured a position at the children's charity, Barnado's, where he learnt the importance of voluntary roles within the community, and gained experience of working in a complex business environment as well as giving a valuable contribution.
Ivan's positive attitude inspired his classmates when he took the initiative to organise a support group with regular meetings, helping fellow students who were facing personal or academic challenges. He arranged social events and activities, such as participation in the Tough Mudder race, to bring classmates together and promote inclusivity. 
Looking ahead
After graduating with his Master's degree, Ivan joined Magellan Aerospace Ltd as an SAP S/4 HANA Solution Architect in the area of Manufacturing and Supply Chain Management.
A world top-100 university
We're a world top-100 university renowned for the excellence, impact and distinctiveness of our research-led learning and teaching.