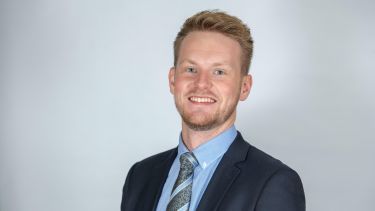 Member of The Dean's List, class of 2018
Lewis actively developed his professional skills alongside engaging in socially responsible activities throughout his studies, including a longstanding volunteering commitment to his community.
On the frontline
Lewis served as a volunteer Special Police Constable with South Yorkshire Police for several years before and throughout the duration of his studies at the Management School. He carried out the same duties as a paid Police Constable would undertake, interacting with individuals from a variety of socio-economic and cultural backgrounds, allowing him to enhance his communication skills, resilience, and sense of responsibility. 
His promotion to the rank of Special Police Sergeant in charge of six Special Police Constables improved his leadership skills, and created a springboard for him to secure other part-time leadership positions, including Lead Student Mentor with the University. 
Managing people in organisations
Lewis gained leadership experience in his part-time role too. As a Waiter at Sheffield Wednesday Football Club, his managers were impressed with his performance and promoted him to the role of Restaurant Supervisor.  
In one of two internship placements that Lewis completed at Lloyds Banking Group, he faced a steep learning curve. While working in the Retail Service Delivery team, he faced the challenge of undertaking an unpopular quality improvement project with resilience, determination, and flexibility. He adapted his communication-style to consciously maintain a tactful and sensitive approach with colleagues affected by the project, resulting in increased engagement and successful project delivery. 
Supporting opportunities for all
After benefitting from a bursary, Lewis supported the University to raise charitable funds by becoming an Alumni Fund Supervisor, discussing with alumni the benefits to students of supporting the University's fundraising campaigns to help ensure that the brightest students, regardless of background or financial ability, are able to take advantage of the range of experiences a Sheffield University education has to offer. Lewis's team raised over £35,000 for the Alumni Fund, which was enough to fund nine full scholarships.
Lewis was the first person in his family to attend University, so it was important to him to share his experience with others. He joined the US in Schools Mentoring Programme, delivering seminars and workshops to help raise the aspirations of secondary school students to apply for higher education. His dedication paid off and he was promoted to the role of Lead Mentor.
Lewis took the lead role in his group assignment work. When he noticed that some of his international classmates were struggling to engage with content in English, their second-language, he doubled the frequency and length of their group meetings, offering to proof-read his group's work to highlight areas for improvement. As a result his fellow group members gained more self-confidence, and they used the PeerWise group review system to praise Lewis for his support.
After graduation
In 2018 Lewis joined British aerospace engineering company Babcock International to complete the Business Operations Management Scheme before moving into a full-time role as Chief of Staff for UK Aviation, working closely with the Managing Director to deliver strategically important projects.
A world top-100 university
We're a world top-100 university renowned for the excellence, impact and distinctiveness of our research-led learning and teaching.