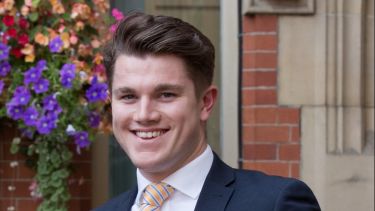 Member of The Dean's List, class of 2018
Owen received his place on the Dean's List for taking a proactive approach to his employability, and balancing this with his contributions to the community and society around him.
Attracting future employers
Owen's goal orientated approach served him well as he sought experience in the retail sector to prepare for his future career. He held a part-time job at Mitchell & Butlers Premium Country Pubs where he gained customer service and stock management experience. 
After his second year he carried out a placement year at discount supermarket chain Aldi, completing his Store Management training in the first six months and then Area Management training and logistics training. This enabled him to gain two very different perspectives: on ground level in the stores, and also in the head office.
Owen had to learn quickly during his placement year, facing the challenge of managing staff members who were older and more experienced than himself. Through facing this challenge head on and showing his strong work ethic, he earned his team's trust and respect over time. He learned to remain calm and professional in stressful situations, while managing multiple stores, and gained invaluable people management, motivation and organisational skills. 
Being a great sport
Upon being elected the Social Secretary of the University Squash Club in his second year, Owen organised bi-weekly socials for all club members, improving his interpersonal skills by interacting with people of many different cultural backgrounds. He regularly met with club sponsors and members of Sport Sheffield to maintain relationships. 
In his final year, he was nominated to become Squash Club Captain, during which role he took responsibility for organising British Universities and Colleges Sport (BUCS) matches, charity tournaments and the annual Varsity event, as well as coaching intermediate squash at Fulwood Sports Centre.
Owen actively involved himself in the Social Sport programme, through which he coached beginner squash at Goodwin Sports Centre for two hours per week, and separately hosted beginner squash sessions for students of the English Language Teaching Centre (ELTC).
Owen's involvement in the Squash Club also extended to charitable fundraising efforts, including being sponsored to run the Sheffield Half Marathon, complete the Yorkshire Three Peaks Challenge, and a 24–hour Squashathon and helping to raise £4,000 in funds for The Children's Hospital Charity in Sheffield.
As a result of his dedication and commitments, Owen was shortlisted for the Outstanding Contribution award at the Annual Sports Awards 2018.
Next for Owen
After completing his placement, Owen was offered a place on the Aldi Management Graduate Scheme. He joined Aldi at the end of his studies to become an Area Manager based in Sheffield.
A world top-100 university
We're a world top-100 university renowned for the excellence, impact and distinctiveness of our research-led learning and teaching.