BA Accounting and Financial Management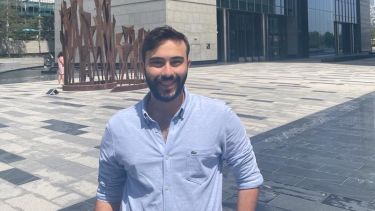 Member of The Dean's List, class of 2018
Sherif earned his place on the Dean's List for his incredible drive to gain the skills and experience necessary to succeed in his chosen career, in tandem with his contribution to the life of the University through his participation in societies and support of fellow students.
Trading and investment
Sherif attended the M&G Investments Insight Day where he had the opportunity to network with employees of the company, complete trading exercises, and  learn about the recruitment process and skills required for a career in trade investment. 
Sherif was highly driven to gain investment trading experience, in order to position himself favourably for his future career. He opted to undertake a module in Company Analysis and Valuation where he learnt to use a Bloomberg Terminal, forecast the future share prices of a company and make investment decisions based on his analysis. He then became a member of the University's Investment Trading Society, joining the Competition Fund after a comprehensive interview process. After further rigorous interviews he was also invited to join the Income Fund, which focuses on investments that will produce longer-term returns. 
As part of his investment team, he carried out research to ensure that his investment choices were environmentally and socially responsible, such as his team's boycott of the oil and tobacco industries with the objective of 'help without harm'.
When he joined the University's USIS Trading Division Competition of Autumn 2017, Sherif and his team successfully became the 3rd place competition winners.
Supporting fellow students
During his English language classes, Sherif noticed that his fellow international students were not confident in asking questions or seeking further assistance when needed. He started by providing extra support to one fellow student, and then other student approached him for help. He decided to establish a drop in session in the nearby cafe after class every Friday for one hour, to assist other students in need of help with their English language studies.
International business 
After being selected to participate in the 2017 IBM University Business Challenge, the largest student business competition in the UK, Sherif improved his numerical and analytical skills, as well as out-of-the-box thinking. He learnt to collaborate with students from different academic departments and remain inclusive of each member's ideas while working under pressure and meeting a strict time limit. As a result, Sherif and his team progressed to the semi-finals and reached sixth place in the competition, out of a total 300 participating teams.
During the summer vacations, Sherif undertook two internships at Union National Bank, a large bank in Abu Dhabi where he gained experience first in their corporate banking division and then with their investment and treasury division. This allowed him to experience a wide array of projects and diversified strategies, learn how to apply financial and technical analysis and understand investment decisions in a real-world organisational setting.
Sherif expanded his employment experience to entrepreneurial endeavours as well. Alongside his studies, he carried out his duties as partner and Chief Financial Officer (CFO) of Yachty, a company in the watersports and boat rental industry, which operates in the Middle-East and North Africa. A key aim of the company is to combat negative PR in the area that had previously disincentivized tourism. He also wanted to minimise the negative environmental impact that the industry could have on marine life, so he formed an objective for Yachty to allocate 5-10% of profits toward marine life conservation organisations. 
Next for Sherif
After graduation, Sherif was offered a graduate role as a Credit Analyst for Union National Bank in the United Arab Emirates, where he worked for 6 months before moving to BNP Paribas Wealth Management to start his private banking career
A world top-100 university
We're a world top-100 university renowned for the excellence, impact and distinctiveness of our research-led learning and teaching.