Networking and industry insights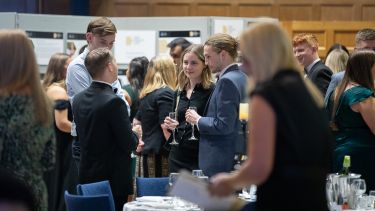 Off
We know that making meaningful connections and staying up to date with industry insights is vital for your career growth, regardless of your chosen field. That's why we're committed to expanding your horizons and providing you with access to the connections that count. Our powerful alumni network and industry links, both locally and internationally, will provide you with numerous benefits and opportunities. Whether you're seeking guidance, a fresh perspective, collaboration opportunities or potential job openings, our network is here to assist you in achieving your career goals.
Throughout the year, we host a range of exciting events and activities that offer the latest insights and give you the opportunity to expand your network.
Broaden your horizon: career development event
Heighten your aspirations: leadership dinner
Know more: company visits
Build your network: networking events
Connect with our MBA alumni: inspirational talks
Our recent visit to The Green Estate Community Interest Company, organised by the Management School, was one of the most engaging and visually exciting visits. Amidst beautiful nature, we learnt the story behind the bustling meadows and had the opportunity to hear from Meadow Experts. They shared with us the unique approach of consultancy which combined the skills of landscape practitioners, horticulturalists and landscape architects. Their partnership with city councils to transform wasteland into fabulous meadows is commendable. It is gave us valuable insight on achieving sustainable business goals by networking and partnering.

Arjun Kshetri

MBA student, class of 2023
Weekly online events
Attend an online event when it suits you, all year round, as an alternative to an open day.
Every Wednesday, Sheffield Live sessions cover different aspects of University life. You can also meet your department and learn more about studying your subject.