Café spotlight – the heart of the city
Owen, a final year International Business Management student, shares his top picks of city centre coffee shops.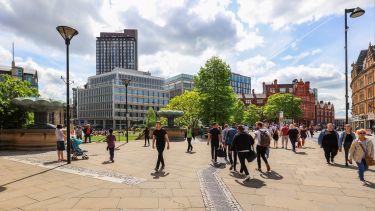 Off
Cafés, whether you like coffee or not, they're a fixture in every student's life. Lucky for you, Sheffield has plenty of them. I will only discuss those in the immediate city centre (around Division Street) and those best tailored for student life, there are many other great cafes worth mentioning, but let's be honest, you wouldn't read this if it was a whole essay.
At the risk of losing some of my favourite spots, here are my recommendations on 5 distinctly different cafes.
1. Copper Pot, Division Street - best vegan pastries
I have many memories of coming here exclusively for a cake, it's one of those desserts you crave occasionally, and the atmosphere inside is very cosy as well, making it ideal for those rainy days where you just want a warm drink and pastry.
Recommendations
Get the Oreo, strawberry or Biscoff cake, you cannot go wrong with any cake really, portions are very generous. Also, during warmer days get a cold brew and be sure to sit outside as they have a comfortable outside seating area.
2. Caffè Nero, St Paul's - best night owl spot
Nero, I know, is not the most original spot, but this café is usually open until 8:30pm, a good two hours later than most cafes close. This is an ideal spot for those who work better at night, or if you just want to catch up with some work after lectures. On top of this, the view from the second floor overlooks the Peace Gardens making your work more tolerable.
Recommendation
You know what you're getting at Nero, but my order usually includes a flat white and a millionaire slice or lemon cheesecake (beware: these are very sweet).
Do try to get the couch spots at the back of the second floor, they have charging spots and small tables ideal for some work.
3. Waterstones, Orchard Square - best reading spot
All the bookworms out there know Waterstones, but most of you have probably not tried the café on the second floor. While serving decent coffee and pastries, the main attraction at Waterstones is the atmosphere. Other than being surrounded by books, the ambience here is usually quiet and relaxed. I come here to read and work, usually on rainy days.
Recommendations
Sit near the stairs - this puts some distance between you and the café, making for a quiet environment. They also have a loyalty card so don't forget to ask for that when ordering and try their cakes on display, my personal favourite is a slice of banana loaf.
 4. Steam Yard, Division Street - quickest and highest quality takeaway
If you want quality coffee which is also made quickly, try Steam Yard. Every time I am walking around the city centre, or on the way to university, I grab a takeaway cup at the Steam Yard. I can't say what it is about it, but baristas here are very quick and you will be out of there with a coffee in no time, this spot has helped me get to my lectures on time and caffeinated.
Recommendations
Any baked good from Steam Yard will be worth your money, whether it's the doughnuts or the cookies, I trust you'll make the right choice, take a quick look at their Instagram page and you'll see what I mean.
5. 200 Degrees, Division Street - best overall café
If you don't know 200 Degrees, you don't know coffee in Sheffield. Whether you're meeting a friend, reading, working, or just looking for some great quality coffee, 200 Degrees is the place to go. Inside you'll find a cosy atmosphere and the friendliest staff. Once you order, they'll bring it to your table. Most seats are also great for working and have chargers nearby.
Unfortunately, this place usually fills up quickly, so try to go early or take your chances at finding a spot. If it is full, then try the other cafés mentioned, they're all within walking distance of each other and you will be sure to find a spot.
Recommendations
Ask about their loyalty card and get your stamps unless you want to miss out on free drinks.
Then, get their app, once you are sat down at any table, you can order without having to get up, and yes, your online orders count towards your loyalty stamps as well.
If you are more into coffee, ask about the coffee kits they sell, they will explain it to you, and everything there is high quality. My usual order from here is a Long Black and carrot cake that I cannot recommend enough. For a sweeter drink, try their Spanish latte.
So that's it for now.
There are many other cafés worth mentioning, so if you'd like another blog covering cafés in other areas of Sheffield, do let us know!
A world-class university – a unique student experience
Sheffield is a research university with a global reputation for excellence. We're a member of the Russell Group: one of the 24 leading UK universities for research and teaching.