How to make the most of an offer holder day and what I wish I asked
Madeline Hollis shares her advice for making the most of your offer holder day.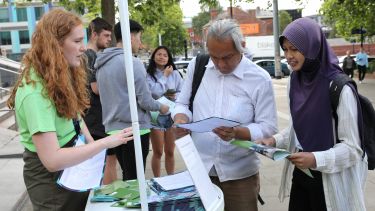 Offer holder days at Sheffield University Management School are a great opportunity for you as a prospective student to get a feel for our campus and learn more about the course you have been offered a place on.
It can be a nerve-wracking and overwhelming experience but with some preparation, you can make the most out of your offer holder day and come away feeling assured about your decision to study at the Management School.
After studying here for almost four years, here are some of my top tips to make the most out of your offer holder day:
Research the University and the course beforehand! Understand why you picked us as your firm choice, and what you want to know more about.
Come up with questions you would like to ask during the day. This could include questions about the course content, the teaching style, the support available to students and the career prospects are graduations (example questions found below to help you out!).
Make sure you attend all the talks by lecturers and tours of the campus. This will help you get a good feel for the Management School and what it would be like if you decide to study here.
Talk to the Student Ambassadors! They will be around all day and will be easy to spot. They can provide valuable insights into the course and the university experience and are also friendly faces if you get lost.
Make sure you look at the accommodation options. They are all within walking distance of the Management School and it's good to make sure you like the area.
By following these tips, you can make the most out of your offer holder day and feel confident in your decision to study at the University of Sheffield.
Below I have some questions that I wish I asked on my offer holder day, and to help you decide what you would like to ask us:
What does the course cover and how does it vary each year?
How is the course structured? Is it mostly lectures, seminars or workshops?
What is the split between exams and coursework?
What support is available to students?
How many hours will I have in university per week?
What are the career prospects after graduation?
What are the accommodation options and what is the cost?
What facilities are available to students, e.g. libraries, a gym, the Student Union?
Remember to come prepared with a list of questions and to take notes during the offer holder day. This will help you make an informed decision about whether the university and course are the right fit for you. And finally, good luck!
Written by Madeline Hollis in January 2023.
Explore the University
Discover why Sheffield is the right choice for you at one of our open days or events.