Luke explains how great it is to be part of a student society or sports team!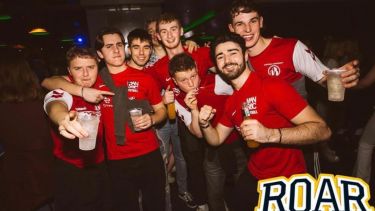 Joining a society or sports club is, in my opinion, the best thing you can do at uni for so many reasons. Whatever you're interested in there'll be a society or club for you and about 100 others if you want to try something new!
As you've probably been told a countless amount of times while being a member of a society you'll make a tonne of new friends… well it's true. Lots of people worry about making friends at uni but if you put yourself out there, try new things, join a new society or club you'll make plenty of friends and make some real friends for life.
By being part of a society you'll do so much. From socials every Wednesday to Christmas and end of year balls and even going on tour with your club or society. You'll do so many things and have so much fun. There are a countless number of opportunities you'll get to be involved with when you are part of a society, don't miss out!
From my personal experience being part of a sports club has made my uni experience amazing and if you ask anyone else I'm sure they'll agree. There's a club for pretty much every sport imaginable and if you're not into sport don't worry there are so many societies you can join and if there still isn't a club or society you want to join you can even make your own society.
When it comes to joining a club or society make sure you're on it at the start of the year. During freshers week and the few weeks after it, this is when club trials and society sign ups are so make sure to pop down, get signed up and get involved! Being part of a society is one of the best things you can do at university.
A world-class university – a unique student experience
Sheffield is a research university with a global reputation for excellence. We're a member of the Russell Group: one of the 24 leading UK universities for research and teaching.