Studying abroad: how to make a home away from home
Owen shares his top tips for making yourself at home when studying abroad.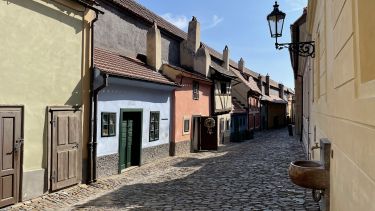 Making a home away from home as an international student can be a difficult task, especially when you're in a new country and culture. However, it's also an incredibly rewarding and fun experience. I can attest to this from my time studying in Vienna, Austria, where I had a truly amazing year abroad. I learned so much about myself and the world around me, and I made friends and connections that will last a lifetime.
Here are some tips from my perspective as an international student on how to make a home away from home while studying abroad:
1. Embrace the local culture
One of the best things about studying abroad is the opportunity to immerse yourself in a new culture. Take the time to explore your new surroundings and learn about the customs and traditions of the people who live there, even if it's just the touristy spots at first. In Vienna, I was able to experience the famous Viennese coffee culture and Christmas markets, attend local festivals and events, and even learn some basic German. Embracing the local culture helped me feel more connected to my home away from home.
2. Make new friends
One of the most important things you can do as an international student is to make new friends. Whether it's with your classmates, roommates, or locals, these connections will help you feel more at home and provide you with a sense of belonging. I was lucky to make friends from different countries, and it was great to share our cultures and experiences with each other, for example, by hosting cooking nights based on our respective country of origin.
3. Get involved in activities
Joining clubs and organisations, such as the local student union, is another great way to make connections and feel more at home. I joined a group chat for Erasmus exchange students which helped me meet other students studying abroad, who would become my friendship group for the duration of my exchange year. It's important to remember many students are in your same position and looking to make friends, so don't be scared and get in touch!
4. Stay in touch with home
While it's important to immerse yourself in your new home, it's also important to stay connected with your family and friends back home. I found it helpful to schedule regular video chats and send updates and photos regularly to friends and family. It helped me feel more connected to them while giving me a sense of home.
5. Embrace the unknown
Finally, it's important to embrace the unknown. Studying abroad is an amazing opportunity to grow and learn if you take advantage of it. Don't be afraid to step outside of your comfort zone and try new things. I found that some of the best experiences I had studying abroad were the ones that were unexpected, such as taking an impromptu train to Prague and Berlin the next morning, or going on a skiing trip for the first time in my life.
In conclusion, studying abroad is an amazing experience that will change your life in many ways. You'll learn about different cultures, meet new people, and grow as a person. By embracing the local culture, making new friends, getting involved in activities, staying in touch with home and embracing the unknown, you'll be able to make a home away from home and have an amazing experience.
Written by Owen Havercroft in January 2023.
Explore the University
Discover why Sheffield is the right choice for you at one of our open days or events.