Christiaan Röell presents his paper at EAMSA's annual conference and at NordCham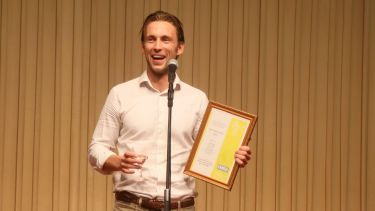 Dr Christiaan Röell, Lecturer in International Business at Sheffield University Management School, presented a paper at the 38th Euro-Asia Management Studies Association's (EAMSA) annual conference, which took place at Keio University Faculty of Business and Commerce, Mita Campus, Tokyo, Japan, from 28 to 30 October 2022. Out of over 100 paper submissions, Dr Röell's paper, titled 'Sowing the seeds for political influence: Incorporating the UN SDGs into the MNE's nonmarket strategy' was selected by the jury as the best paper.
On 30 November 2022, Christiaan also presented his research at the launch of the Sustainability Committee of the Nordic Chamber of Commerce in Indonesia (NordCham). Christiaan was also officially appointed as Knowledge Partner at NordCham to share knowledge and experiences about the Indonesian business environment. Attendees of the event included many of the leading Nordic companies, such as Scania, H&M, SKF, AFRY, TOMRA, Valmet, ISS and as well as the Finnish ambassador and representatives of other Nordic embassies.
The study builds on five years of intensive data collection on foreign investors in Indonesia, and found that investments in the United Nations Sustainable Development Goals were the primary mechanism by which multinationals develop effective relationships with the Indonesian government. The findings of the study hope to inform both executives and policymakers about how to develop effective cross-sector partnerships that address the SDG.
This project was a collaborative effort, and Christiaan's co-authors include Professor Felix Arndt (University of Guelph), Dr Mirko Benischke (Rotterdam School of Management) and Professor Rebecca Piekkari (Aalto University). After working through some feedback received at the conference and the Sustainability Committee meeting, the team hopes to have their work published in one of the top international business journals.
The EAMSA is a platform for scholarly exchange on economic and management issues. Annual conferences that bring together researchers and business executives who discuss their research and experiences, exchange ideas, and establish collaborative networks. The theme of the 2022 annual conference was 'Achieving the Sustainable Development Goals: Prospects and Implications for Euro-Asia Business'. The conference focused on key opportunities and challenges arising in the global effort to achieve these goals, taking a Euro-Asia perspective on business and policy approaches related to SDGs.
---
Flagship institutes
The University's four flagship institutes bring together our key strengths to tackle global issues, turning interdisciplinary and translational research into real-world solutions.