Congratulations to our team Shefficiency, who came in second place out of 128 teams in the University Business Challenge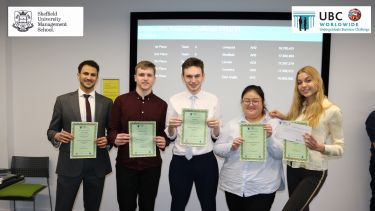 The University Business Challenge is the longest established simulation-based competition in the UK. It is designed to help students to develop their enterprise skills and boost their career prospects. Since the competition was founded, over 30,000 students have taken part.
This year, Sheffield University Management School was represented by Lola Doehring, Omar Hazzazi, Lee Norris, Matthew Owen and Keke (Wendy) Su. The team was ranked in second place out of 128 teams, which is an amazing achievement.
This is an outstanding achievement in a renowned competition. Omar, Lola, Wendy, Lee and Matthew have done so well in this competition, having been almost entirely self guided all the way through. Despite this relative challenge compared to their competitors I am extremely pleased to announce that they came second!

Dr Robert Marchand, Director of Undergraduate Education
Lola Doehring, final year BA Business Management student, shared with us what the team had to do to be successful in the competition:
"The competition was split up into five individually assessed procedures. The trial period, as well as the 'first and second trading period', were the most informal stages. These involved making financial business decisions for a fictitious company. We were given a certain amount of funds, as well as a vision and mission statement for the company. We met up several times before the deadline to discuss what strategy we should implement."
In the semi-final, which took place online this year, Shefficiency, the Management School's team, were competing against 20 different teams. Lola continues:
"The [semi-final] concept was similar to the previous activities, but we only had a maximum of one hour to make our decisions. There were a total of three trading periods which were split across the day, with a number of creative tasks in between. It was these creative tasks that really helped our team spirit."
The final followed a similar structure and took place in Liverpool. Here, the students had the opportunity to learn about the success stories of previous winners, as well as gaining insight on the recruitment processes of several well-known businesses.
The team learnt a lot from their experiences participating in the competition and feel that it will definitely help them moving into their careers.
As a team leader, the majority of my work was an attempt to gain the maximum performance and benefit from all of my teammates. I learned that you do not have to know all the details regarding some aspects of an organisation and in all cases, trust the opinions, ideas and suggestions of my teammates.

Omar Hazzazi, BA Business Management
Congratulations once again to Omar, Matthew, Lee, Wendy and Lola, as well as all the other teams who participated this year from everyone at Sheffield University Management School.
Explore the University
Discover why Sheffield is the right choice for you at one of our open days or events.