Dr Eva Kipnis and team scoop Women in Marketing Marketing Scientist Award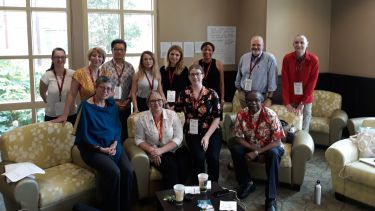 Dr Eva Kipnis and her colleagues in the Multicultural Marketplaces network have been awarded the Marketing Scientist award by Women in Marketing Awards. 

Women in Marketing Awards 2020 marks the awards' ten year anniversary

The Marketing Scientist category recognises female leads from the marketing education sector.  
Join the Sheffield University Management School community in congratulating Dr Eva Kipnis and her colleagues for being awarded the Marketing Scientist award at the Women in Marketing (WiM) Awards 2020.
Dr Eva Kipnis and her colleagues in the Multicultural Marketplaces network have been recognised for their research promoting diversity and inclusivity in marketing science, education and practice to advance consumer wellbeing in multiculturally diverse societies.
Launched in 2010, the WiM Awards were established to recognise the economic, social influence and impact of women to millions. This year marks the tenth anniversary of the WiM Awards and to reflect the evolving landscape of marketing new categories have been added including The Marketing Scientist Award to celebrate educators in marketing.
The Marketing Scientist Awards celebrates a teaching initiative or research project that demonstrates innovative approaches to marketing education through the delivery of a new marketing course or curriculum.
Dr Kipnis' win highlights the ongoing programme of work by the Multicultural Marketplaces network focused on creating and publicising evidence-based insights into how people's experiences of discrimination and misrepresentation as consumers related to their cultural characteristics impacts individual sense of social inclusion, (in)equality, and wellbeing, and intercultural attitudes and community relations.
Over the past decade of the network's existence, the team have conducted 5 large collaborative projects and 14 multi-country empirical research studies, published (collectively and individually) over 30 research articles, and established knowledge co-creation collaborations with marketing industry practitioners.
Dr Eva Kipnis, Senior Lecturer in International Marketing, said:
It's an honour for our hard work to have been recognised in this way by the WiM Awards 2020. I am so excited about this success of our  Multicultural Marketplaces network, and look forward to continuing our work. I would also like to express our appreciation of the Transformative Consumer Research movement which is the platform where this body of research has evolved from and is continuing to grow.
The WiM Awards judges commented "Through the Multicultural MarketPlaces initiative, Dr Eva Kipnis has instigated an integrated view on the multiple cultural diversity in consumer markets.
The network's work has achieved high impact - through the creation of a mechanism for knowledge co-creation with industry, policy and civil society organisations. In what would be considered a very niche topic achieving this level of co-creation and ensuring international exposure is to be commended. Congrats to Dr Eva Kipnis and The Multicultural MarketPlaces Team."
Professor Rachael Finn, Interim Dean Sheffield University Management School, said "I'm delighted that the high-quality research that underpins this achievement is being recognised in this way and the leading contributions of women to the field are being celebrated by this award.  I am extremely proud of Dr Kipnis and her team for their work to advance our understanding of issues of diversity and inclusion within the field of marketing. This is a prime demonstration of the Management School's commitment to promoting socially responsible work practices, our international outlook and the positive impacts on society we make through our excellent scholarship."
Flagship institutes
The University's four flagship institutes bring together our key strengths to tackle global issues, turning interdisciplinary and translational research into real-world solutions.