Event Review: Sheffield Alumni in London Network 2023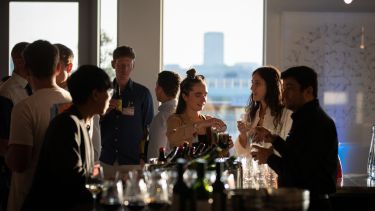 The 2023 Sheffield Alumni in London Networking event took place at DLA Piper with a guest panel of Ambassadors from the Grantham Centre of Sustainable futures. Led by Dr Richard Bruce, Chief Business Advisor to the Grantham Centre, our Ambassadors shared their insights into sustainability with an audience of alumni and students from the departments of Economics, Law and Management of the University of Sheffield.
After drinks and networking upon arrival, guests were welcomed to the evening's event by Una Moran, Alumni and External Relations Manager, Sheffield University Management School.
Attending the event were alumni spanning the graduating years from 1973 all the way up to 2022! Also present were members of our current MBA cohort, who made the most of the opportunity to make their own alumni connections ahead of their upcoming graduation.
It was really good to get people together! Inspiring conversation about different roles on sustainability and the challenges.

Sheffield Alumni in London Network Event 2023

Alumni Guest
Guests received a warm welcome from Teresa Hitchcock, who talked about her career journey until now as Partner at DLA Piper Sheffield, International Co-Head of Product Liability and Mass Torts, Head of Safety, Health & Environment, UK. The panel got underway with Dr Richard Bruce, Management School Programme Director and Lecturer, and Grantham Centre Chief Business Advisor, leading the session.
Sharing his experience in the food production industry, Dr Gavin Milligan talked about his journey to founding Green Knight Sustainability Consulting, helping businesses to deliver successful sustainability strategies that support company profits. Clive Gristwood also talked about the role of food in sustainability, and how he worked within Unilever to improve the sustainability of food through many of the big brands we know and love.
Speaking about his relationship with educating for sustainability, Professor Wyn Morgan shared his view on the importance of integrating sustainability across all degree programmes during his time as Vice-President for Education at the University of Sheffield.
Shankar Venkateswaran spoke about how he worked together with the heads of companies within the Tata Group, his involvement with the Responsible Business Initiative, and his current role in supporting investors and companies in their ESG journeys. We had the privilege of hearing about the founding of the Responsible Business Initiative and the Responsible Behaviour Institute by Ambreen Waheed.
Ambreen and Shankar shared the critical importance of bringing multiple different countries together to form a joint effort for responsible business and sustainability, before Dr Bruce hosted a brief question and answer session.
The event was really good! Great to listen to some really impressive professionals who provided original insight on some key issues.

Sheffield Alumni in London Network Event 2023

Alumni Guest
After the panel session, guests took the opportunity to network with each other and chat with the Grantham Ambassadors and staff from the University, whilst enjoying the fabulous evening view of London from DLA Piper, and finger food including battered monkfish and saffron aioli, panko halloumi tacos and yuzu meringue tarts among other treats. As the evening's events wrapped up, one guest shared their thoughts on the evening, "Thank you very much for organising! Great venue, great food, great speakers. I will definitely come again."
Thank you!
A special thank you to DLA Piper for hosting this event and to Dr Richard Bruce for facilitating the panel session. Thank you to our amazing alumni and guests for joining us in London! Thanks to our guest panellists and Grantham Ambassadors for attending, including:
Teresa Hitchcock, Partner at DLA Piper, International Co-Head of Product Liability and Mass Torts, Head of Safety, Health & Environment, UK
Shankar Venkateswaran, Co-Founder and Managing Partner at ECube Investment Advisors Pvt Ltd, former chief of Tata Sustainability Group (TSG)
Ambreen Waheed, Founder & Adviser, Responsible Business Initiative and Responsible Behaviour Institute, Member Board of Directors , Chair ESG Committee at Millat Tractors Limited
Professor Wyn Morgan, Principal Consultant for Halpin, Principal Fellow of the Higher Education Academy, former Vice-President for Education at the University of Sheffield
Clive Gristwood, former EVP R&D Unilever Food & Refreshment Division
Dr Gavin Milligan, Founder and Owner of Green Knight Sustainability Consulting Ltd
Keep in touch
If you are an alumnus of the Department of Economics, School of Law, or Sheffield University Management School and would like to receive an invitation to our London events, you can update your details here.
Stay connected with your University
Experience all the benefits and services that come from being a Sheffield graduate.