Platform Level LCA Helps Support BAE Systems' Net Zero Strategy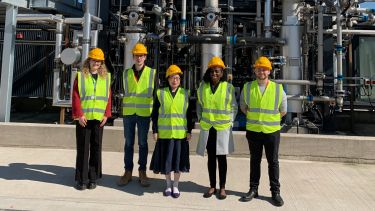 Sheffield University Management School (SUMS), in collaboration with the AMRC North West and BAE Systems, has established a framework for conducting an environmental impact assessment across BAE Systems' Air Sector fast jets, with a focus on Scope 3 emissions. This framework is in alignment with the UK Defence and Aviation Net Zero approach, The Jet Zero Council Strategy and BAE Systems' Net Zero goals.
This system-level Life Cycle Assessment (LCA) of a BAE Systems product, identifies Scope 3 emissions 'hotspots' using LCA methodology incorporating key scenarios which  supports BAE Systems in achieving its Net Zero ambitions.
This research focusses on the environmental impact analysis of two types of interventions, namely Sustainable Aviation Fuel (SAF) and digitalisation technologies, across various future scenarios against the baselines.
The analysis of the baseline scenario shows that most of the product's environmental impact sits within the 'Use' phase of the life cycle and therefore Scope 3 emissions.
The SAF scenario shows the percentage impact on life cycle emissions of the product when kerosene-based jet fuel is replaced by several sustainable alternative fuel options in the use phase of the life cycle. The digitalisation scenario shows the environmental impact of the product when a percentage of live flying is replaced by simulations in the training and testing phases of the life cycle.
The study's findings will support BAE Systems in making the transition to lower emissions processes and products.
"The platform LCA framework supports strategic investment decisions towards achieving BAE Systems' Net Zero aspirations. We continue to work closely with our academic and industrial partners to better understand the route to achieving emissions reduction and collectively making the transition to Net Zero greenhouse gas emissions. We are pleased to have collaborated with the University of Sheffield Management School and the AMRC North West, and we look forward to implementing some of the recommendations from the study" said Michelle Akure, Net Zero Technology Lead at BAE Systems.
"Scope 3 emissions are the hardest to address. Informed by our platform level LCA results, addressing Scope 3 emissions through SAF provides a significant CO2e reduction to achieve Net Zero in BAE Systems. This has wider benefits to the UK defence and global aviation supply chains. We look forward to shaping the Net Zero future together with our partners" said Professor Lenny Koh, co-Head of the Energy Institute and Director of AREC, University of Sheffield.
"This partnership between BAE Systems, AMRC North West and Sheffield University Management forms the driving force to support UK government and industry's decision-making on decarbonisation and Net Zero in the UK defence and aviation sectors. We are excited about this work and recognise the significant value of the platform LCA" said Faizal Kachwala, AMRC North West.
"This study has made use of specialist as well as industry standard tools, of which SUMS is a recognised global leader in applying across industrial sectors. Completing this project with valuable input from both BAE Systems and AMRC North West has been very exciting and I am looking forward to seeing how these technologies are applied in the real world. This work has shown just how powerful ongoing research will be in achieving aviation Net Zero" said Jacob Whittle, The University of Sheffield.
Flagship institutes
The University's four flagship institutes bring together our key strengths to tackle global issues, turning interdisciplinary and translational research into real-world solutions.