Professor Rachael Finn appointed Interim Dean of Sheffield University Management School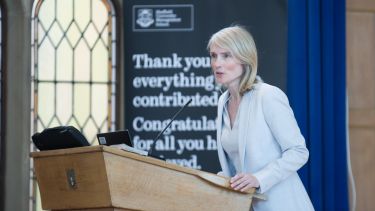 In July, we welcomed Professor Rachael Finn as Interim Dean of Sheffield University Management School. Professor Finn joined the Management School in 2011. Prior to her appointment as Interim Dean, she served as Head of the Work, Employment, People and Organisations Division within the School. Her research focuses on Organisation Studies particularly in the health care sector.
Professor Finn has published extensively in the field of health care organisation, worked with external partners such as the NHS, and taught students at all levels.
Professor Finn added: "It is a pleasure and privilege to be taking up the role of Interim Dean of Sheffield University Management School. I look forward to working with excellent colleagues to further build upon the many strengths we have as a school for the benefit of our students, organisations and wider society".
The University is grateful for the leadership of the School of Management provided by Professor David Oglethorpe over the past five years. Professor Oglethorpe will join Cranfield University as Pro-Vice-Chancellor and Dean of Cranfield School of Management.
Professor Koen Lamberts, President and Vice-Chancellor of the University of Sheffield said: "I am delighted to welcome Professor Finn to the role of Interim Dean of the Management School. She brings a strong vision and commitment to research and teaching to the post, and I am looking forward to the further development of the Management School under her leadership".