Sheffield University Management School successfully gains EQUIS re-accreditation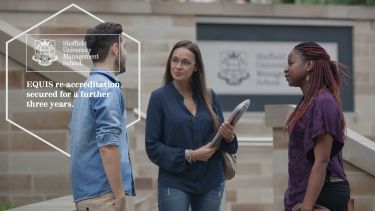 Sheffield University Management School (SUMS) received EQUIS re-accreditation for a further three years. EQUIS is the accreditation system of European Foundation for Management Education (EFMD), one of the world's leading authorities on quality assessment and continuous improvement for excellence in management research and education.
SUMS has been EQUIS accredited since 2012 and is among one of an elite group of schools globally to hold the esteemed 'triple crown' accreditation - the other two accrediting bodies being the Association for MBAs (AMBA) and the Association to Advance Collegiate Schools of Business (AACSB).
EQUIS accreditation is a comprehensive institutional accreditation system for business and management schools, acknowledged worldwide by prospective students, faculty, employers, corporate clients and the media, often being a prerequisite for entry to rankings.
The EQUIS panel commended the professionalism and collegiality of staff in the School during the visit and highlighted many strengths, including our high-quality research profile, teaching portfolio, student experience, infrastructure and connections with practice. They identified the School's research as undoubtedly one of its great assets and strengths (noting an impressive rise in funding and significant rise overall in our absolute level of world-leading and internationally excellent publications). The EQUIS  panel explicitly noted the effective support and attention provided by the School in the context of the pandemic. 
The EQUIS panel commended the School's commitment to ethics, sustainability and responsibility as an Area of Excellence. This was described as part of the School's DNA, strongly embedded and integrated across research, taught programmes and in strong public and external engagement by academic and professional staff.  
Professor Rachael Finn, Dean of the Management School, said "I am delighted that we have  been awarded EQUIS re-accreditation as recognition of our excellence as a leading management school." 
"This achievement is testament to the high ambitions, talent and dedication of our whole community of academics, professional service colleagues, students and external collaborators nationally and across the globe. Commitments to social responsibility and creating positive societal impact are at the heart of who we are as a School and I am particularly proud that this has been recognised by EQUIS."
"We look forward to building further upon our strengths to realise our ambitions in the next stage of the School's development. I would like to express my gratitude to all colleagues across the School who have made this achievement possible".
Professor Craig Watkins, Vice President and Head of Faculty (Social Sciences), added "We are extremely proud of the achievements of the Management School and of the contribution that its staff and students make to the Faculty and the University."
"EQUIS re-accreditation is further recognition of and reward for the outstanding research, scholarship and education for which the Management School is globally renowned. I would like to congratulate all in the School for this prestigious achievement."
A world-class university – a unique student experience
Sheffield is a research university with a global reputation for excellence. We're a member of the Russell Group: one of the 24 leading UK universities for research and teaching.