Success for SUMS Green Impact Team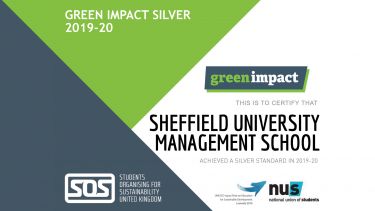 The University of Sheffield has taken part in Green Impact since 2009/2010, as part of our behaviour change strategy to reduce our carbon emissions. Green Impact is all about rewarding positive environmental action.
Teams undertake activities to reduce their environmental impact for example improving waste management, reducing energy consumption, or helping to increase biodiversity. Some of the projects the SUMS team focused on include a weekly litter pick in the S10 area which attracted support from staff, students, and local residents organised by Emma Williamson, food bank collections managed by Nicola Orridge, notice board with sustainability awareness posters arranged by Kat Sloan and a book-swap shelf in the staff room initiated by Elenor Spittlehouse.
This work is logged in an online workbook which the University Green Impact organisers assess and award either a Bronze, Silver or Gold rating to recognise each teams' efforts.
Emma Williamson, SUMS Finance Manager and head of SUMS Green Impact Team, said "I'm delighted that our hard work this year has been recognised and that we have been awarded Silver Standard this year. I'd like to extend my thanks to everyone who played a role in helping us achieve this award."