Professor Paul Latreille
BSc, PhD
Chair in Management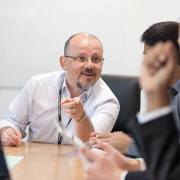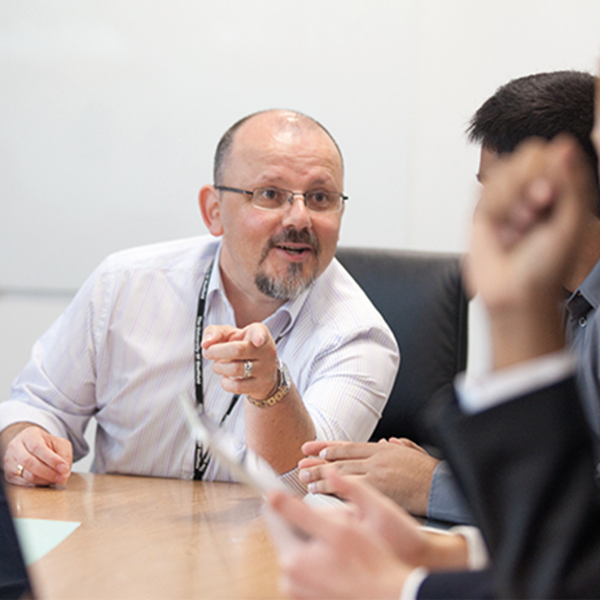 p.latreille@sheffield.ac.uk
+44 114 222 3283
Room C051, Sheffield University Management School
Full contact details
Professor Paul Latreille
Management School
Room C051
Sheffield University Management School
Conduit Road
Sheffield
S10 1FL

Profile

I joined the Management School in January 2013 as Chair in Management.

During my time in Sheffield I have had the privilege of undertaking various leadership roles, most recently from 2016-17 as Deputy Vice-President (Education), with an institution-wide remit for embedding individual learning and teaching development and support across the University.

Prior to that I was Associate Dean for Learning & Teaching in the Management School.

An economist by training, I obtained both my BSc and PhD from the University of Warwick and subsequently worked at Swansea University for more than 20 years, latterly as Professor of Economics.

Until shortly before coming to Sheffield, I was also founding Director of the Swansea Academy of Learning & Teaching.

I am currently a visiting professor at Westminster Business School's Centre for Employment Research, a Research Fellow of the IZA, Bonn, an Associate of the (formerly Higher Education Academy (HEA)) Economics Network, a Fellow of the Learning and Performance Institute and a Member of the Chartered Management Institute.

I am also President of the International Employment Relations Association's European region, and serve on the editorial boards of the International Journal of Organizational Leadership and the Journal of Experimental Economics and Management Science.

Reflecting my research interest in workplace mediation, I am a member of the Civil Mediation Council's Workplace and Employment Group.
Research interests

My research comprises several, sometimes interconnected strands crossing disciplinary boundaries between labour economics, HRM, employment relations and employment law. A member of the Work, Organisation and Employment Relations Research Centre (WOERRC) at the University of Sheffield, my main area of expertise concerns individual workplace conflict and its management and resolution.

A particular focus has been on Employment Tribunals (ETs), including the factors associated with settlement and pre-hearing resolution, the role of representation, outcomes at hearings, and the consequences for claimants of bringing cases.

An ESRC-funded project with Susan Corby from Greenwich University looked at the role of lay/non-legal members and included a unique survey of judges and lay members at both the ET and its appellate counterpart.

During 2008-9 I was the ESRC Visiting Research Fellow at Acas, working on a series of pieces around conflict at work, from which developed a strand exploring the role of workplace mediation and other forms of alternative dispute resolution.

An ESRC-funded seminar series with Richard Saundry in 2012-13 brought together academics, policymakers and practitioners to examine these issues in greater depth and from a variety of perspectives.

This formed the basis of a Palgrave volume entitled Reframing Resolution – Innovation and Change in the Management of Workplace Conflict, co-edited with Richard Saundry and Ian Ashman, published in 2016.

I am currently working with Richard on a project evaluating the delivery of conflict resolution skills training for managers in an NHS trust, having previously completed a seminal Acas-funded piece looking at a conflict management system in the UK.

Other areas of research include the relationships between disability and work; occupational health and safety; and vocational training.

I have published on these and other issues in a range of leading international business and economics journals.

However, the applied and policy-relevant nature of my research has provided opportunities to engage with policymakers and practitioners, and I have led and/or been involved in a number of projects with and for external organisations including the European Commission, the Department for Business, Energy & Industrial Strategy (and its predecessors), the Ministry of Justice, the Low Pay Commission, Acas, the TUC and Welsh Government.
Publications

Books

Edited books

Journal articles

Chapters

Conference proceedings papers

Scholarly editions

Dictionary/encyclopaedia entries

Preprints
Research group
Grants

Managerial Competences, Engagement and Productivity - Developing Positive Relationships

Awarding body: Economic and Social Research Council (ESRC)
Date: 2019/22
Partners: R. Saundry, P. Urwin and G. Dix
£757,819 (FEC)

Reframing Resolution – Managing Conflict and Resolving Individual Employment Disputes in the Contemporary Workplace

Awarding body: Economic and Social Research Council (ESRC)
Date: 2012/13
Partners: R. Saundry, P. Teague, P. Urwin and C. Irvine
£17,760

Lay Members as Judges in Employment Rights Cases

Awarding body: Economic and Social Research Council (ESRC)
Date: 2010/11
Partners: S. Corby
£99,075 (FEC)

A Place for Mediation in Workplace Conflict Management

Awarding body: Economic and Social Research Council (ESRC)/ Acas/ Chartered Institute of Personnel and Development (CIPD)
Date: 2008/09
£61,788
Teaching activities

In 2018-19 I am module leader for MGT6128: Managerial Economics, and also contribute to the teaching on MGT3001: Management Project.

The first of these seeks to show how an understanding of Economics can help managers make better tactical and strategic decisions, while the latter module provides final year undergraduates with the opportunity to undertake a desk-based piece of research addressing real business challenges 'pitched' by external organisations such as PwC, the Sheffield Steelers, PlusNet, Ben's Centre and Museums Sheffield.

Winner of multiple teaching awards, including nationally from the (then) Higher Education Academy (HEA) subject centre for Economics, and more recently a University of Sheffield Senate Award for Leadership in Learning & Teaching, I am passionate about teaching and seek to be both an innovative and reflective educator.

Adopting a constructionist orientation, I aim to ensure students can see the practical applications of theoretical ideas and are exposed to teaching which is – to use Griffiths' 2004 taxonomy – research-informed, research-led, research-oriented and, where appropriate, research-based.

I have led and contributed to several HEA-supported/sponsored workshops/seminars and projects, the most recent focusing on inclusivity in relation to disability and (with Bill Lee) on the teaching of research methods.

I am currently working on the value of a placement year (with Nicki Newman and Jo Padmore).

Finally, I have written a number of practice-based case studies for the Economics Network and, with Steve Greenlaw from Mary Washington University, previously edited the chapter on 'Creative uses of in-class technology' for the Network's Handbook for Economics Lecturers.
Professional activities and memberships

Editorial work:

Co-editor, 'Creative Uses of In-Class Technology', in The Handbook for Economics Lecturers, Economics Network of the Higher Education Academy, 2013 (with S. Greenlaw)
Editorial Board member, Work, Employment and Society, 2012–2014; International Journal of Organizational Leadership, 2015–; Journal of Experimental Economics and Management Science, 2015–

Awards:

The University of Sheffield, 2016 – Senate Award for Leadership in Learning and Teaching
EDUCAUSE, 2010 – recipient, Jane N. Ryland Fellowship
Economics Network of the Higher Education Academy, 2008 – winner, Student Nominated Award
Economics Network of the Higher Education Academy, 2007 – joint winner, eLearning Award
Economics LTSN, 2003 – commendation, Outstanding Teaching Award
Swansea University, 2002 – winner, University of Wales Swansea Teaching Fellowship

Current external chairs/boards memberships:

Vice President (Europe), International Employment Relations Association (IERA), 2011 onwards
Member, Civil Mediation Council Workplace and Employment Steering Group, 2016 onwards

Current external examining:

University of Leeds (PhD programme) (2018-)
PhD Supervision

I have supervised four PhD students to completion, and in 2018/19 supervised nine students looking at topics as diverse as:

Employment transition and support for people with common physical and sensory disabilities
Role perceptions and decision-making processes of line managers in the return to work of ill and injured workers in Oman
Appraisal and reward in Chinese enterprises' overseas projects
The impact of performative university culture on inspirational teaching practice