The Management School has excellent accreditations which have been really beneficial in my career so far

May Than Thar Cho
Undergraduate alumna
BA Accounting and Financial Management
2021
May Than Thar Cho, who is from Myanmar, graduated from the Management School in 2021 with a degree in Accounting and Financial Management. She is now based in London working as a Financial Services Audit Trainee at BDO UK LLP.
Sheffield University Management School had excellent accreditations and was one of a handful of schools which had Triple Crown accreditation.
This gave me the confidence that the quality of education I receive will be top quality. The exemptions received for the professional accounting qualifications was also another factor as I thought this would be really beneficial when I start my career.
I had the freedom to essentially design my course to my interests.
First year was mostly compulsory modules but I appreciated that because it helped me to build a very strong foundation. From second year onwards, I got to choose to study the modules which really interested me which I really enjoyed. The lecturers and tutors were all very helpful, were passionate about their subject areas and taught in a very engaging way, which I think also played a huge role in how much I enjoyed my programme. Having a solid understanding of accounting has really given me an edge in my career and has helped me grasp new concepts easier.
Sheffield was an amazing city to be in.
The university was an amazing place to study in, it was welcoming and it felt like home. I enjoyed being around friends, walking and attending lectures together, lunch breaks at the Students' Union, study sessions in the Diamond and when Saturday rolled around, Pop Tarts was always a good time.
Being a student ambassador for the Management School was my most memorable moment.
It was my first role at the University so it's particularly special! I loved meeting prospective students on Open Days and being able to tell them about my experience. I also enjoyed speaking to other student ambassadors, it's been inspiring to hear from their experiences. I also really enjoyed being a Global Campus and International Student Ambassador. Being able to offer them a peek into life at Sheffield was a great experience.
Being able to work effectively in a team and take leadership are skills I developed at university and have been really helpful in my career so far.
My job role is people-centred; I'm always with an internal team and a team of clients. Being a great team player, being able to communicate with lots of different people, understanding their priorities and issues, and knowing when to take the lead and ownership of my work has really helped me build relationships and trust among the teams I work in. 
I started my role as a Financial Services Audit Trainee the year I graduated.
I mainly work with banking and alternative finance entities in performing their external audits. It's been a steep learning curve but it's been very interesting because I get to work on auditing and testing different financial statement areas, and it's particularly interesting to learn about each client I work on and how their business functions. I'm also currently working towards my ACA qualification as I work and I'm about halfway through now.
Just navigating the learning curve, adapting and seeing myself grow and my work improve is probably my biggest achievement.
From being a fresh graduate with a lot of questions to being able to confidently deliver my work, coach new graduates, and build new connections and friendships at work are all achievements that may not seem significant individually but collectively is a big achievement.
My plans for the immediate future is to finish my ACA qualification.
Following this, I plan to stay in audit for a few additional years just because I think there is still so much to learn in this field. After this, I will start exploring different industries I can move into within accounting and finance; I'm currently very interested in FinTech but it will be an exciting next few years!
My tips for students looking to study at Sheffield
Look into the clubs and societies here! The university experience is more than just academics, being involved in a society or sport you enjoy, or being able to explore new interests really makes a difference. It's a great way to meet new people as well so take a quick look on the SU website to see what's there.
Explore the city and the university! Open days are a great way to do this as you also get to speak to student ambassadors who will be around to share their experiences. If you are not able to make it to one, explore the online chat platform and speak to student ambassadors about their experience, their recommendations in the city and what they love to do! 
When you finally start studying at Sheffield, utilise all the resources available to you, from lecturers to career support to different societies. The opportunities are endless as long as you stay active and involved with the university, its community and network. Don't be afraid to step out of your comfort zone and enjoy your time at Sheffield!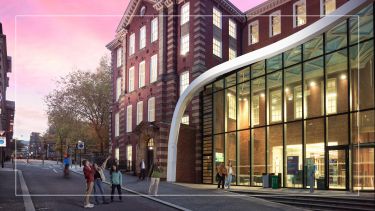 Visit us
Discover what sets Sheffield apart at our undergraduate open days on the Saturday 21 October or Saturday 18 November.