Evaluating the Transformation of Mental Health in Sheffield
Damian Hodgson is working with healthcare and voluntary sector partners to learn lessons on transforming mental health services.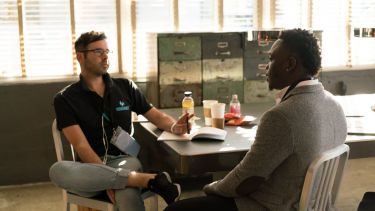 Project overview
This project explores organisational and workforce changes enacted through the Sheffield Primary and Community Mental Health Transformation Programme. This Programme was initiated in Sheffield from 2020 as an early implementer of the new NHS England Community Mental Health Framework for Adults and Older Adults (CMHF), designed to transform care for people with serious mental illness who do not meet the threshold for specialist mental health care. The Sheffield Programme was a partnership between NHS Sheffield Clinical Commissioning Group, Sheffield Health and Social Care NHS Foundation Trust (SHSC), Primary Care Sheffield (PCS), Sheffield City Council and Sheffield Mind (who commissioned 6 further voluntary sector partners).
The Transformation Programme was initially tested in four sites across Sheffield, representing one third of the city's population, and sites were selected on the basis of inequalities (socio-economic deprivation and ethnic minority populations) and degree of mental health need. In each site, a multi-disciplinary mental health team was set up, composed of GPs, psychologists, psychotherapists, mental health workers, allied health professionals, health coaches and linked to local voluntary organisations through Community Connectors. The programme thus required close cooperation between multiple professionals and provider organisations, from primary and secondary care and the third sector.
Working with Dr Abigail Tazzyman of the Sheffield Methods Institute, Professor Hodgson led a process evaluation to capture learning from the Transformation Programme to refine the implementation of care and to inform the wider roll-out across the rest of Sheffield. The evaluation also sought to understand how professional and organisational boundaries were reconfigured in practice to enable more integrated mental health care, and the value of providing mental health services in this way to both service users and staff.
The evaluation found the Programme was successful in reaching under-served communities across Sheffield, with a disproportionate uptake among minority ethnic communities, was valued by service users, felt to be more effective by staff, and was highly valued by GPs. The evaluation generated further insights on challenges faced and a set of recommendations presented in a summative final report and a shorter, key findings briefing. The recommendations are structured across 15 key themes, targeted at operational, neighbourhood, city and national leads, And will be of value to Sheffield as the programme expands across the city, but crucial regionally and nationally as CMHF implementation is rolled out across England'. The key findings have already been welcomed by NHS England's National Clinical Director for Mental Health Professor Tim Kendall and will be shared with the national transformation team.
Staff involved
---
Find out more about the work of the Organization Studies research cluster than Damian Hodgson is a member of.
Flagship institutes
The University's four flagship institutes bring together our key strengths to tackle global issues, turning interdisciplinary and translational research into real-world solutions.