Charline Sempéré
Department of Politics and International Relations
PhD research student
Doctoral researcher at Sheffield Political Economy Research Institute.
Co-convener of SPERI Doctoral Researchers Network.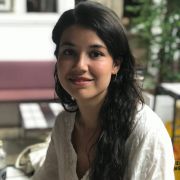 charline.sempere@sheffield.ac.uk
Elmfield Building
Full contact details
Charline Sempéré
Department of Politics and International Relations
Elmfield Building
Northumberland Road
Sheffield
S10 2TU

Profile

Charline is an ESRC-funded doctoral student in the Department of Politics and International Relations. Her research explores the relationships between the vulnerability of workers to Forced Labour and Gender. The project investigates how and why women workers are disproportionally affected by labour exploitation across the supply chains of multiple industries in the global economy from a Feminist Political Economy perspective. The study will pay special attention to the 'everyday' experiences of research participants, uncover the agency of female workers and elucidate their capacity to challenge the political economic processes that explain their disproportionate vulnerability to forced labour. PhD title: Women and Unfree Labour: A Feminist Political Economy Account.
Qualifications

BA  Applied Languages – Montpellier University III, 2017.
MA Global Political Economy – The University of Sheffield, 2018.
MA Social Research – University of Sheffield, 2020.
Research interests

PhD title: Women and Unfree Labour: A Feminist Political Economy Account.

Supervisors: Professor Genevieve LeBaron and Dr Matthew Bishop.

Research interests:

Political Economy
Labour and Decent Work
Gender and Feminist studies