2023 start
September
MBA (Master of Business Administration)
Management School, Faculty of Social Sciences

Triple Crown accreditation means we meet the high standards of three of the world's most prestigious accreditation bodies: AMBA, EQUIS and AACSB.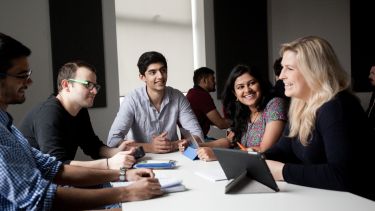 Course description
Experiential learning is at the heart of the Sheffield MBA. Our programme is designed to provide unique learning experiences that maximise the potential of each individual as part of a close-knit community. At Sheffield you are not viewed as a number, but as an ambitious individual with unique attributes ready to take on the challenge of reaching your full potential.
Our MBA programme is diverse and tailored to each student's journey, individual development needs and career aspirations. Our world-class academics will inspire and challenge you to apply your learning to live organisational issues.
We understand that the challenges of the 21st century require globally minded individuals who can adapt to rapidly changing environments, understand situations and then lead their organisations forward. To this end, we have designed our MBA programme around three core pillars of consultancy, entrepreneurship and leadership.
Triple Crown accreditation means we meet the high standards of three of the world's most prestigious accreditation bodies.
Accreditation
This course is accredited by the Association of MBAs, EQUIS, AACSB, the Chartered Management Institute (CMI) and the Chartered Institute of Management Accountants (CIMA).
Modules
Core modules:
Marketing Consultancy Challenge

This module integrates consulting with marketing through application on a real company project. Students will become familiar with the practice of marketing and important managerial decisions including those about the choice of the target market, the nature of the offer (product/service), pricing, distribution, promotion and finally communications. While marketing will provide a set of principles and context, consultancy will provide students with an opportunity to apply theoretically grounded consulting principles into a client based marketing problem. The rationale is that many business consulting projects are driven by the initial need for improvement in markets, products and channels to customers, branding and the design of associated processes.

20 credits

The Intelligent Organisation

An intelligent organisation knows how to use data and information, effectively and efficiently, to achieve organisational goals. Where once technology was the key driver of organisational processes and innovation, today we have entered into the second machine-age where technology is simply a basic requirement for operations, deployed like a good personal assistant. The challenge today is in effectively managing the giant pools and streams of data, information, and intellectual assets that are essential for operational effectiveness and the key drivers of innovation. From enabling a digital workplace, to managing, using and securing its intellectual assets, the intelligent organisation is also cognisant of evolving digital transformations and scans cautiously and tactically for disruptive technologies (e.g., social, mobile, analytics, cloud) while adopting an effective digital strategy. Using case studies, pseudo simulation and discussion, this module will examine and ponder the breadth of digital issues facing todays organisation.

10 credits

Managing Organisational Behaviour

This unit aims to provide students with an understanding of a systematic set of behavioural science concepts for analysing human behaviour in organisations. The major theories and research findings in this area derive from the academic disciplines of psychology, sociology and anthropology and students will be expected to familiarise themselves as directed. Further, the unit provides the opportunity to relate these theoretical concepts to realistic organisational problems and to consider appropriate managerial responses. In this way, the unit is designed not only to increase the ability to analyse behaviour but also to develop the skill to draw on appropriate concepts to influence and manage others effectively in organisational contexts.

10 credits

Global Managerial Economics

This module focuses on the analysis of factors that affect strategic decisions and performance of firms from an economic perspective. This includes organisation-level factors and issues such as the contractual relationships among the different stakeholders of firms and optimal boundaries of firms, as well as the structure and contestability of markets within which they operate. There is particular emphasis on strategic interactions with competitors, designing of contracts in an environment of imperfect (asymmetric) information, and the role of transactions cost in influencing key strategic decisions involving both domestic and international operations of firms. Finally, there is discussion about the factors that influence the regulatory and macroeconomic contexts in which firms operate, including the relevance of interconnectedness of economies for domestic macroeconomic and regulatory environments. As such, the aim of the module is to provide a coherent picture of application of economic principles to different aspects of managerial decision making.

10 credits

Accounting and Financial Management

This unit examines the basic principles of both financial accounting and finance. The financial accounting part of the unit is concerned with the techniques needed to prepare the financial statements of a limited company, the use of the financial statements to appraise the performance of a company, the ways in which profits can be managed and the regulatory environment and the usefulness of financial statements. The finance part of the unit is concerned with the basic theoretical foundations of asset pricing models, the concept of efficient capital markets and its implications for financial analysis, and the different types of derivatives and their role in managing risk.

10 credits

Operations Management

This unit is concerned with the effective and efficient marshalling of the organisation's resources to meet its objectives. An understanding of basic concepts and techniques will be provided and used by students to tackle cases which apply to manufacturing and service industries in both private and public sectors. The systematic and logical approach of Operational Research to the solution of management problems is also introduced.

10 credits

Career Accelerator Programme

The Career Accelerator Programme (CAP) is a core element which runs throughout your MBA programme. Designed to complement the other academic modules taught in the programme, it focuses on professional development activities, supporting students in achieving their career aspirations. The core elements of the programme enable students to develop skills in team working and negotiation, enhance their interview skills and utilise their networking skills through attending guest speaker events. In addition, students will construct their own professional development plan from optional activities including workshops and visits. Individual support is provided via CAP tutorials.
Core modules:
Individual MBA Challenge

This is an individual project taken towards the end of the Sheffield MBA programme and allows the student to demonstrate the ability to research a management issue within an academic framework and within the context of a specific organisation or industry. It utilises knowledge and skills acquired in the earlier part of the programme, and is executed under the general guidance of a supervisor. The module will also equip students with the frameworks and approaches needed while researching in the field of Management. A dissertation written by the student should be delivered to the School at the conclusion.

45 credits

Internationalisation Challenge

This module focuses on international business opportunities and the processes, strategies and theories that entrepreneurs, and managers need to follow and apply to pursue them. The primary disciplines for this module are international business, strategy and entrepreneurship which are brought together around the idea that to pursue international opportunities, the firm needs to internationalise, and understand how to do so strategically and effectively. The aim of this module is to enable students to understand and integrate theory and apply it to interpretation and analysis in very specific firm and country contexts, to generate theoretical understanding and practical outcomes for a specified firm.

10 credits

New Venture Creation Challenge

This is a project-based module in which students, working in small groups, research and develop a business plan for a new venture. With facilitation and coaching, students will select an entrepreneurial idea and develop it into a comprehensive and fully detailed, written business plan. All aspects of the business must be thoroughly researched and the written plan must include five years' financial projections. Further, the module considers what it takes to become more entrepreneurial or 'intrapreneurial', by critically considering to what extent it is possible to replicate entrepreneurial DNA. The module considers the importance of organisational leadership, structure, systems, strategies and cultures. The overarching aim is to enable students to assess entrepreneurial orientation and its potential both in theory and practice.

15 credits

Effective and Responsible Leadership

This module will emphasise the importance of providing responsible leadership with a specific focus on ethics and strategy. It will provide an understanding of different approaches to leadership in organisations including transformational and transactional, authentic and follower-centred. This module will also emphasise the link between effective leadership and performance, paying particular attention to the importance of employee voice. Participants will explore their own leadership styles and will have an opportunity to develop their leadership skills through feedback, reflection, and practice. There will be opportunities for participants to reflect on their own leadership capacities and identify paths for developing new skills.

10 credits

Strategic Management

The module covers strategic issues and methods, and organisational arrangements relevant to how managers can develop business strategies that can achieve business growth within ever changing international markets and business environments. The task of delivering business growth in fast moving environments requires that companies explore new opportunities whilst exploiting exisiting product markets. This simultaneous activity demands new strategic and organisational approaches by managers. Companies need the ability to use several different strategy development methods as well as to disperse the strategic thinking function through the company in order to remain competitive and adaptable. Building upon knowledge gained in MGT6050 the module explores the issues that these new strategic and organisational demands raise and the theoretical and practical concepts proposed to help managers address them.

10 credits

Career Accelerator Programme

The Career Accelerator Programme (CAP) is a core element which runs throughout your MBA programme. Designed to complement the other academic modules taught in the programme, it focuses on professional development activities, supporting students in achieving their career aspirations. The core elements of the programme enable students to develop skills in team working and negotiation, enhance their interview skills and utilise their networking skills through attending guest speaker events. In addition, students will construct their own professional development plan from optional activities including workshops and visits. Individual support is provided via CAP tutorials.
You will select 2 of the 4 elective modules:
Corporate Finance

This module focuses on the principles underlying financial decision making. Finance directors make two major types of decisions, investment decisions and decisions on how to finance investment projects. Concerning investment decisions, the module reviews the determination of the cost of capital under uncertainty based on the Capital Asset Pricing Model (CAPM). In terms of financing decisions, the link between shareholder value on one side and financing choices (debt versus equity financing) and dividend policy on the other side is examined. The module also discusses the motives behind mergers and acquisitions as well as the potential and actual gains from such operations for both the bidder and target firms. Finally, the traditional approach to finance which assumes that securities are in general fairly priced is contrasted with a more recent approach which argues that psychological effects systematically bias investor behaviour and therefore cause persistent mispricings.

10 credits

Human Resource Management

This module has three objectives. It is intended to develop an understanding of the international and comparative factors (such as national culture) that shape human resource management. It will also build functional knowledge of the main tools and techniques used in the HRM field. Finally, it will develop an awareness of some of the most pertinent HRM issues in Europe, the Far East and America. Teaching methods for the option will combine the project method, formal lectures, videos, case study analysis, analysis of example HRM tools and techniques and Powerpoint presentations.

10 credits

Risk and Crisis Management

For the purposes of this module, risk and crisis management is seen to include issues relating to risk management and crisis prevention, as well as recovery and damage limitation. A core focus of the module is the manner in which organisations become dysfunctional. The module also provides a critique of some of the dominant theories within management. In particular, the role of latent managerial error, notions of incubation and error cost within decision-making and the development of organisational neuroses will be examined.

10 credits

Strategic Management Accounting

This module explores the way in which management accounting information can play an important role in the strategic development of organisations. It recognises the need for management accounting to be more externally focussed and for it to provide information that helps organisations face up to strategic uncertainties. The concept of strategic management accounting is relevant for both private and public sector organisations.

10 credits
The content of our courses is reviewed annually to make sure it's up-to-date and relevant. Individual modules are occasionally updated or withdrawn. This is in response to discoveries through our world-leading research; funding changes; professional accreditation requirements; student or employer feedback; outcomes of reviews; and variations in staff or student numbers. In the event of any change we'll consult and inform students in good time and take reasonable steps to minimise disruption. We are no longer offering unrestricted module choice. If your course included unrestricted modules, your department will provide a list of modules from their own and other subject areas that you can choose from.
An open day gives you the best opportunity to hear first-hand from our current students and staff about our courses. You'll find out what makes us special.
Duration
1 year full-time
Teaching
Lectures, seminars, workshops and guest speakers
Industrial visits and projects
Assessment
Individual and group assignments and presentations
Project report
Formal examinations
Entry requirements
Minimum 2.1 undergraduate honours degree.
At least three years' full time postgraduate work experience. This should include
appropriate management experience and show good career progression.
Your application may be considered if you do not meet the academic requirement but have significant professional and/or management experience.
You will be invited to attend an interview if your application is successful at the initial review stage. If you are unable to attend the interview in person we will arrange with you for this to be online.
Find out more about the MBA application process
Overall IELTS score of 6.5 with a minimum of 6.0 in each component, or equivalent.
Fees and funding
Scholarships
We're offering a limited number of scholarships worth £10,000 each for Home and International students starting their MBA in 2023.
We use a staged admissions process to assess applications for this course. You'll still apply for this course in the usual way, using our Postgraduate Online Application Form.
Any supervisors and research areas listed are indicative and may change before the start of the course.
Recognition of professional qualifications: from 1 January 2021, in order to have any UK professional qualifications recognised for work in an EU country across a number of regulated and other professions you need to apply to the host country for recognition. Read information from the UK government and the EU Regulated Professions Database.