Biomedical Science (with Foundation Year)
BSc
School of Biosciences
Course description
If you want to study biomedical science, but don't meet the entry requirements, our foundation year course could be for you. For example, if you've studied the right subjects but haven't achieved high enough grades, or have achieved good grades in unrelated subjects.
During your foundation year you'll develop the skills and knowledge that every bioscientist needs by studying modules in chemistry and mathematics, the principles that underpin the life sciences. You'll also study life processes, from genes, cells and organs, to organisms and ecosystems, ready to start your degree.
After successfully completing the one-year programme, you'll progress onto the first year of our BSc Biomedical Science degree.
Our biomedical science degrees are all about studying the human body in health and disease. We're proud to be one of only a few universities in the UK to offer our undergraduate students the opportunity to perform full-body cadaveric dissection, providing you with an excellent foundation for understanding human physiology and developmental biology.
Modules
Title: Biomedical Science (with Foundation Year) BSc course structure
UCAS code: C900
Years: 2023
Foundation year
Core modules:
Advanced Level Chemistry

The unit covers a selection of the major concepts from areas of inorganic, organic and physical chemistry in order to develop a sound basic knowledge of chemistry corresponding to the common core A level curriculum as preparation for successful studies in the Material Sciences and Chemical Engineering.

20 credits

Introduction to Scientific Writing in Bioscience

This module will equip you with the skills needed to research an area of bioscience and produce a written review of the area for a scientific audience. Working within topics linked to your destination department (e.g. organ systems, genetics, ecosystems) you will identify valid sources of information, using these to explain to your readers the aspects that are key to understanding. By writing a reflection of the process you have followed, the challenges you faced and the solutions you identified, the module will also develop your skills in self – reflection, a key skill for success in your future studies.

20 credits

Further Foundation Chemistry

The unit covers a selection of the major concepts from areas of inorganic, organic and physical chemistry in order to develop a sound basic knowledge of chemistry corresponding to the common core A level curriculum as preparation for successful studies in the Sciences and Engineering.

20 credits

Laboratory and Project Skills in Bioscience


This module will allow you to develop generic practical investigative and mathematical skills relevant to your future work in bioscience. Using bioengineering activities as a platform you will develop generic skills in data gathering, data analysis and practical report writing. Group project work will show you the importance of communication skills and provide an opportunity for you to develop information searching, evaluation and presentation skills. This is a unique opportunity for you to see the value and impact of mathematical and practical principles to bioscience in our increasingly interdisciplinary world.


20 credits

Foundation in Bioscience

This module provides an introduction to the biological sciences at degree level and supports the transition to University study It explores the core concepts in the areas of biology, physiology, biochemistry, genetics, neuroscience and ecology at foundation level. The module is structured around academic skills development in the context of studying the biosciences, with opportunities to develop skills in writing, research, data analysis, teamwork and communication.

40 credits
The content of our courses is reviewed annually to make sure it's up-to-date and relevant. Individual modules are occasionally updated or withdrawn. This is in response to discoveries through our world-leading research; funding changes; professional accreditation requirements; student or employer feedback; outcomes of reviews; and variations in staff or student numbers. In the event of any change we'll consult and inform students in good time and take reasonable steps to minimise disruption.
Learning and assessment
Learning
Our research-embedded teaching ensures you'll gain knowledge and understanding from the forefront of the full breadth of biology, from the cell and molecular level through to whole organisms and biodiversity.
You'll learn through lectures, small group tutorials and workshops, field courses, research projects and practical sessions in the lab and field. Our biology course benefits from exceptional teaching across all three bioscience subject areas, including biochemistry and biomedical science.
To support your learning, you'll have access to a virtual learning environment with interactive course materials. You'll also have a personal tutor throughout your course, to give you advice and guidance on both academic and pastoral issues.
Assessment
Throughout the course you will be assessed through a variety of methods, including exams, tests, presentations, coursework and practical work.
Programme specification
This tells you the aims and learning outcomes of this course and how these will be achieved and assessed.
Entry requirements
Standard offer
The A Level entry requirements for this course are:
BBC
including a science subject
International Baccalaureate 31, with 5 in Higher Level science
BTEC Extended Diploma DDM in a relevant subject
BTEC Diploma DD in a relevant subject + C in an A Level science subject
Scottish Highers + 1 Advanced Higher BBBBB + B in a science subject
Welsh Baccalaureate + 2 A Levels B + BC including a science subject
Access to HE Diploma Award of Access to HE Diploma in Science, with 45 credits at Level 3, including 30 at Distinction (to include sufficient Chemistry), and 15 at Merit
Other requirements
Science subjects include Biology (or Human Biology), Chemistry, Computer Science, Geology, Maths, Further Maths, Statistics, Physics, Geography, Psychology, Economics or Environmental Science

GCSE Maths and a science subject at grade 4/C
English language requirements |
You must demonstrate that your English is good enough for you to successfully complete your course. For this course we require: GCSE English Language at grade 4/C; IELTS grade of 6.5 with a minimum of 6.0 in each component; or an alternative acceptable English language qualification
School of Biosciences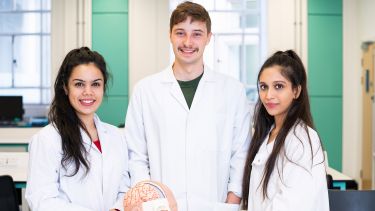 The School of Biosciences brings together more than 100 years of teaching and research expertise across the breadth of biology. It is home to over 120 lecturers who are actively involved in research at the cutting edge of their field, sharing their knowledge with more than 1,500 undergraduate and 300 postgraduate students. 
Our expertise spans the breadth and depth of bioscience, including molecular and cell biology, genetics, development, human physiology and pharmacology through to evolution, ecology, biodiversity conservation and sustainability. This makes us one of the broadest and largest groupings of the discipline and allows us to train the next generation of biologists in the latest research techniques and discoveries.
The School of Biosciences is based at the heart of campus across the interlinked Firth Court, Alfred Denny, Florey, Perak and Addison buildings which house lecture theatres, teaching labs and research facilities. You'll be over the road from 24/7 library facilities and the UK's number one students' union, a short walk from our student accommodation, sports facilities and the city centre, and just a bus ride away from the Peak District National Park.
Facilities
Our students have access to world-class laboratory and computing resources for biological research and are trained in specialist teaching laboratories. The school is home to state-of-the-art facilities, including the Medical Teaching Unit where our students work alongside trainee medics to gain an excellent foundation for understanding human physiology and developmental biology. We also have the Alfred Denny Museum of Zoology that we use for teaching animal anatomy, biodiversity and evolution. 
To further support our research and teaching, we have a world-leading controlled environment facility which allows our staff and students to study the impacts of climate change; multi-million pound microscopy equipment that's helping us to understand and prevent diseases such as MRSA; and facilities for genomics, proteomics and metabolomics research, Biological Mass Spectrometry, and Nuclear Magnetic Resonance imaging.
School of Biosciences
Why choose Sheffield?
The University of Sheffield
  Number one in the Russell Group
National Student Survey 2023 (based on aggregate responses)
  92 per cent of our research is rated as world-leading or internationally excellent
Research Excellence Framework 2021
  Top 50 in the most international universities rankings
Times Higher Education World University Rankings 2022
  Number one Students' Union in the UK
Whatuni Student Choice Awards 2022, 2020, 2019, 2018, 2017
  Number one for teaching quality, Students' Union and clubs/societies
StudentCrowd 2023 University Awards
  A top 20 university targeted by employers
The Graduate Market in 2023, High Fliers report
---
School of Biosciences
Top 10 in the UK for Biomedical Sciences
Complete University Guide 2023
Top five in the UK for quality of research
Research Excellence Framework 2021
98% of our research and impact is rated as world-leading or internationally excellent
Research Excellence Framework 2021
Graduate careers
School of Biosciences
As a Biosciences graduate, you'll have a huge range of career opportunities open to you. Whether you want to work in industry, join a Top 100 graduate employer, or continue your studies, employers seek out our graduates because of the skills they develop during their time at Sheffield.
Whatever you're passionate about, we'll make sure you get the scientific skills and knowledge to pursue it. Here are just a few of the exciting things our graduates are doing now:
Saving local biodiversity and developing solutions to global food shortages at the RSPB and local Wildlife Trusts
Working in industrial research at organisations including Pfizer, AstraZeneca and Reckitt
Working in healthcare, in the NHS or for private healthcare providers or charities
Studying for a PhD
A biosciences degree from the University of Sheffield can even take you into roles in marketing, teaching, human resources, IT, science communication and beyond. Each year our graduates apply their transferable skills and begin careers in these areas with Top 100 employers like GSK, Google and Aldi.
Fees and funding
Fees
Additional costs
The annual fee for your course includes a number of items in addition to your tuition. If an item or activity is classed as a compulsory element for your course, it will normally be included in your tuition fee. There are also other costs which you may need to consider.
Visit us
University open days
We host five open days each year, usually in June, July, September, October and November. You can talk to staff and students, tour the campus and see inside the accommodation.
Subject tasters
If you're considering your post-16 options, our interactive subject tasters are for you. There are a wide range of subjects to choose from and you can attend sessions online or on campus.
Offer holder days
If you've received an offer to study with us, we'll invite you to one of our offer holder days, which take place between February and April. These open days have a strong department focus and give you the chance to really explore student life here, even if you've visited us before.
Campus tours
Our weekly guided tours show you what Sheffield has to offer - both on campus and beyond. You can extend your visit with tours of our city, accommodation or sport facilities.
The awarding body for this course is the University of Sheffield.
Recognition of professional qualifications: from 1 January 2021, in order to have any UK professional qualifications recognised for work in an EU country across a number of regulated and other professions you need to apply to the host country for recognition. Read information from the UK government and the EU Regulated Professions Database.
Any supervisors and research areas listed are indicative and may change before the start of the course.