Business Management and Japanese Studies
BA
Management School
School of East Asian Studies
Apply for this course
You are viewing this course for 2023-24 entry. 2022-23 entry is also available.
Key details
A Levels

ABB


Other entry requirements
UCAS code

NT22

4 years

/

Full-time

September start
Dual honours
Foreign language study
Study abroad
Course description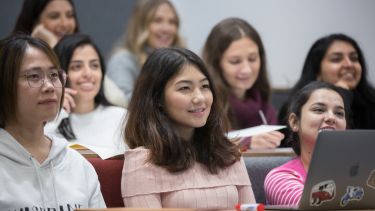 This is a four-year dual honours course. Your time is split equally between the two subjects. You spend your third year in Japan, studying the language at a university there.
In the first year, you'll learn the basics of business management. You also study the Japanese language.
In the second year, you'll continue your Japanese studies. You'll also look at other core areas of business management including marketing, organisational behaviour and strategy.
Your third year, at a Japanese university, is an intensive year of language study. You return to Sheffield for your fourth year to complete your degree.
Dual and combined honours degrees
Business Management is Triple Crown Accredited (AACSB, AMBA and EQUIS)
Modules
Modules for this course are to be confirmed.
The content of our courses is reviewed annually to make sure it's up-to-date and relevant. Individual modules are occasionally updated or withdrawn. This is in response to discoveries through our world-leading research; funding changes; professional accreditation requirements; student or employer feedback; outcomes of reviews; and variations in staff or student numbers. In the event of any change we'll consult and inform students in good time and take reasonable steps to minimise disruption. We are no longer offering unrestricted module choice. If your course included unrestricted modules, your department will provide a list of modules from their own and other subject areas that you can choose from.
Learning and assessment
Learning
This course offers you the opportunity to develop an advanced understanding of the latest business thinking combined with specialist knowledge of Japanese language and society. Modules vary from the creative to the technical but all are relevant to the modern workplace and are taught by leaders in their fields. You'll learn through a combination of lectures and seminars.
Lectures are usually held in large groups and introduce you to important concepts, while seminars are held in smaller groups where you closely examine a given topic. You'll often be given reading or be asked to prepare work in advance. You'll be expected to contribute to discussions and group work during the seminar.
You'll be supported throughout your degree by your module leaders, tutors, personal tutors and our wider learning and teaching support such as the 301 Academic Skills Centre.
Our courses are based on world-leading research and our staff, many of whom have extensive industry experience, produce impactful research that influences policy and informs public debate.
We were ranked in the top 5 in the Russell Group for our research impact and 14th overall in the UK in the most recent Research Excellence Framework (2014), a periodic assessment of all university research in the UK. This gives you access to degrees that combine real-world application with cutting-edge business thinking.
The School of East Asian Studies has over 50 years' experience of researching contemporary East Asia and pioneering new methods for teaching East Asian Languages. SEAS staff, many of whom are fluent in at least one East Asian language, are internationally-renowned specialists in East Asia, and bring their expertise in various fields such as history, culture and politics, to the wide range of courses on offer at SEAS.
Assessment
Your lecturers are here to support your development which is why you'll be given extensive feedback on your work. We use a range of assessment methods including, exams, online tests, group/individual presentations and coursework. You will also get lots of formative and summative feedback to help you progress and reach your potential.
You will be assessed on the core skills of speaking, listening, reading and writing. Our assessment methods vary across our studies modules and could include taking exams, developing a portfolio, writing essays, taking part in group projects and presentations.
Programme specification
This tells you the aims and learning outcomes of this course and how these will be achieved and assessed.
Entry requirements
The A Level entry requirements for this course are:
ABB
A Levels + additional qualifications BBB + B in a relevant EPQ; BBB + B in Core Maths
International Baccalaureate 33
BTEC Extended Diploma DDD in a relevant subject
BTEC Diploma DD in a relevant subject + B at A Level
Scottish Highers AAABB
Welsh Baccalaureate + 2 A Levels B + AB
Access to HE Diploma Award of Access to HE Diploma in a relevant subject, with 45 credits at Level 3, including 30 at Distinction and 15 at Merit
Other requirements
No prior knowledge of Japanese is required (up to A Level Japanese is acceptable)
The A Level entry requirements for this course are:
BBB
A Levels + additional qualifications BBB + B in a relevant EPQ; BBB + B in Core Maths
International Baccalaureate 32
BTEC Extended Diploma DDM in a relevant subject
BTEC Diploma DD in a relevant subject + B at A Level
Scottish Highers AABBB
Welsh Baccalaureate + 2 A Levels B + BB
Access to HE Diploma Award of Access to HE Diploma in a relevant subject, with 45 credits at Level 3, including 24 at Distinction and 21 at Merit
Other requirements
No prior knowledge of Japanese is required (up to A Level Japanese is acceptable)
Management School
We are a leading business school with Triple Crown accreditation (AACSB, AMBA and EQUIS). These awards have been achieved through the outstanding quality of our programmes, research output, support for students and alumni, and links with industry. We have a world-class reputation for high quality teaching, ground-breaking research and cutting-edge thinking.
You'll be part of a dynamic and engaging business school that puts you and your future at the heart of everything it does. We balance a rigorous academic foundation with practical skills to ensure you are ready for the world of work.
We want you to develop skills so you can apply course content in a company setting. Our close links with organisations keep us in tune with the changing demands of the workplace. We know what employers are looking for.
You'll learn from experts - many are former industry professionals and they work closely with businesses. Because our academics are world-leading researchers, your education will draw on the most current management theories.
We want you to engage with the academic content, be conscientious and take an independent approach to study. We want you to be informed, innovative and proactive and do everything we can to support and enhance your career, steering you in the right direction with all the knowledge and skills you require.
You'll benefit from tailored on-site and online professional careers support, dedicated skills sessions and events with experts from world-leading organisations and professional bodies. These activities will help guide your personal and professional development to help you secure your dream placement, internship or graduate role.
Management School students are based in our building on Conduit Road which accommodates learning facilities such as lecture theatres, seminar rooms, trading and computer rooms, our academic and professional staff, the Courtyard Café, and our Futures First Employability Hub and Student Experience Office. Teaching takes place at various venues across campus.
Facilities
The Management School has invested in an impressive, fully-equipped financial trading room, built around Bloomberg and Refinitiv Eikon.
These terminals are used by traders, banks and multinational companies to trade financial securities, gain market insights and undertake research. Students will also have the opportunity to gain certification that demonstrates competence in these systems, which will add real value to your CV.
Management School
School of East Asian Studies
Our courses are designed to immerse you in the languages and cultures of East Asian countries. You will be taught by native speakers in Chinese, Japanese and Korean in regular small group classes using custom-made course material.
Our courses are based on world-leading research and taught by experts whose work influences policy and informs public debate. Most of our staff publish in their specialist field and many of them have written books for major publishers such as Oxford University Press, Routledge and Macmillan.
The School of East Asian Studies is located in the Jessop West building, right in the heart of campus and close to the Sheffield University tram stop. You'll visit the department to meet with your tutors and gain any support you need. Your lectures, seminars and language classes will take place in various locations across the University of Sheffield campus.
School of East Asian Studies
Why choose Sheffield?
The University of Sheffield
  A top 100 university 2022
QS World University Rankings
  92 per cent of our research is rated in the highest two categories
Research Excellence Framework 2021
  No 1 Students' Union in the UK
Whatuni Student Choice Awards 2020, 2019, 2018, 2017
Management School
Triple Crown accredited
AACSB, AMBA and EQUIS
---
School of East Asian Studies
Top 10 in the UK for student satisfaction
National Student Survey 2021
50+ years' experience
in teaching and researching East Asia
---
Graduate careers
The flexibility of our courses means a huge range of career options are available. Employers recognise and value the practical, work-ready skills that our students develop. Recent graduates are working for Amazon, Asda, Danone, Deloitte, E.ON, Glaxosmithkline, Unilever and Virgin Media.
Management School
We have a dedicated Employability Hub where you can access careers support, find job or placement opportunities, and develop essential skills through workshops with industry experts. You're supported throughout your course and for up to three years after you graduate. We work with businesses and organisations to ensure the content of our courses are up-to-date and relevant, and that the skills and experience you'll gain meet the demands of future employers.
Sheffield University Management School careers
School of East Asian Studies
Studying China, Japan or Korea prepares you for a career in the world's most dynamic region. There are also many opportunities across Europe for people with skills in Asian languages and cultures.
Our graduates work in government and diplomacy, media and the arts, non-government organisations and international business - in professions as diverse as management consultancy, accountancy, marketing, research, language teaching and translation.
Fees and funding
Fees
Additional costs
The annual fee for your course includes a number of items in addition to your tuition. If an item or activity is classed as a compulsory element for your course, it will normally be included in your tuition fee. There are also other costs which you may need to consider.
Visit us
University open days
There are four open days every year, usually in June, July, September and October. You can talk to staff and students, tour the campus and see inside the accommodation.
Taster days
At various times in the year we run online taster sessions to help Year 12 students experience what it is like to study at the University of Sheffield.
Applicant days
If you've received an offer to study with us, we'll invite you to one of our applicant days, which take place between November and April. These applicant days have a strong department focus and give you the chance to really explore student life here, even if you've visited us before.
Campus tours
Campus tours run regularly throughout the year, at 1pm every Monday, Wednesday and Friday.
The awarding body for this course is the University of Sheffield.
Recognition of professional qualifications: from 1 January 2021, in order to have any UK professional qualifications recognised for work in an EU country across a number of regulated and other professions you need to apply to the host country for recognition. Read information from the UK government and the EU Regulated Professions Database.