English schools' outreach
The School of English is very active and enthusiastic about working with schools, communities and the wider public.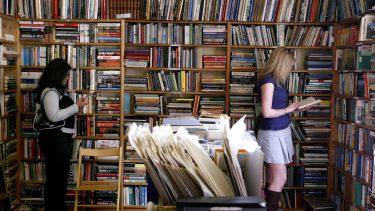 A great deal of our work outside the University is based on ideas of widening participation – using our research and teaching to inspire, collaborate and communicate with those in schools that might be from backgrounds traditionally under-represented in higher education. However, we are keen to offer opportunities for all schools and students to get involved with us.
We deliver talks in many schools as a way of supporting ongoing modules - our research interests can guide you as to whether anything might be suitable.
The following is a selection of successful or ongoing projects - please get in touch if you would like to book a talk or are interested in a specific project for your school.
---
English taster days
Led by our students and academic staff, these interesting and interactive sessions give an insight into the difference of studying English at University compared to school. Year 12 students will have the opportunity to experience a lecture or seminar and to participate in Q&A sessions about English research, teaching and student life at the University of Sheffield. 
---
Learning resources for pupils
We are very aware of the impact Covid-19 has had on schools, particularly on those pupils who are part-way through studying for their GCSEs and A Levels. The School of English has put together some resources to help pupils with their studies now, and also during the next academic year as they continue to prepare for their exams.
English resources for GCSE and Year 12
---
Past events
Kes and Beyond
Over the course of seven weeks PhD student Hugh Escott worked with a year 8 English class at Hinde House Secondary School, and their teacher Charlie Pritchard-Brennan, to explore Barry Hines' book 'A Kestrel for a Knave'.
The students were introduced to other texts by Hines, as well as dialect poetry and literature by other local authors, and also given the chance to contribute to research on Hines by answering questions through film-making.
Responses to the question 'What would A Kestrel for a Knave be like if it was set today?' were collected together in a research summary, which was placed in the University archives when the students came to the University to explore Hines' papers.
Lyric Academy
The Lyric Academy project encouraged young people to engage critically with everyday language, place and literature through poetry writing.
Secondary school students in Sheffield and Stocksbridge came together to write poetry at the University of Sheffield, in workshops delivered by the poets Helen Mort, Bridgette Minamore and Andrew McMillan.
The students also took part in a poetry workshop at the National Coal Mining museum, working with Andrew McMillan to use imagery of the mines and local language to write poetry.
These workshops aimed to provide a space to think differently about poetry and to engage with writing as a reflective and critical act.
In order to celebrate their writing, the students, their parents and teachers were invited to the University of Sheffield for a celebration evening, where they were read their poetry and were presented with Lyric Academy certificates.
---
Contact us
If you would like to contact the Faculty Schools' Outreach Team regarding any of our projects, or to enquire about setting up a bespoke session for your school or college, please get in touch here - 
A world top-100 university
We're a world top-100 university renowned for the excellence, impact and distinctiveness of our research-led learning and teaching.