Semiconductor Materials & Devices
The Semiconductor Materials & Devices (SMD) group is internationally leading in the epitaxy of semiconductor materials, electron microscopy of devices and materials, and the design, fabrication and engineering of both electronic and opto-electronic devices.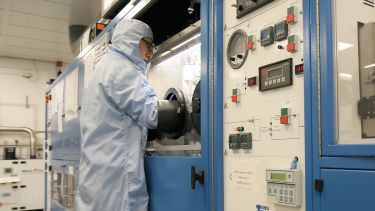 Off
Semiconductor devices and materials are ubiquitous. Such devices have transformed our world over the past few decades, enabling the internet age both in terms of fibre based communications and wireless communications, revolutionising data storage, bringing high resolution printing to the home, etc. The current research within the group is wide ranging - from projects aimed at providing solar-powered hydrogen generation to the imaging of skin tissue to enable rapid cancer diagnosis.
The SMD group is one of the three major research groups in the Department for Electronic and Electrical Engineering in terms of both staff numbers, research outputs, and in research income. The group benefits from extensive cleanroom facilities including; state-of-the-art epitaxy, lithography and device manufacturing tools, ultra-high resolution electron microscopy, and numerous suites of tools for opto-electronic and electronic device design and characterisation.
The group is proud to host the EPSRC National Epitaxy Facility, acting as the hub for the UK's III-V research. Furthermore, we are delighted to be responsible for a number of spin-out companies.
Find out more about our research interests and expertise:
Working with industry
The SMD group offers a wide range of services to commercial companies. These include:
Large and small scale collaborative R&D
Training and consultancy in all aspects of advanced semiconductor design and manufacture
Design and Characterization of both materials and devices
Provision of services such as electron microscopy, epitaxial materials, and device fabrication
Find a PhD
Search for PhD opportunities at Sheffield and be part of our world-leading research.