Sheffield ELTC partners with Santander and British Council to provide 32 English language scholarships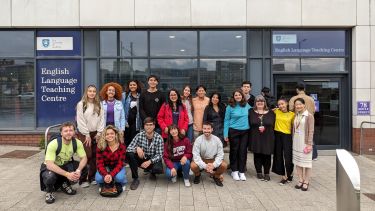 The University of Sheffield's English Language Teaching Centre (ELTC) has recently completed hosting 32 Latin American and European students on a fully funded scholarship programme provided by Santander Universities and organised by the British Council.
100 students were selected in a competitive process amongst thousands of applicants to receive the scholarships by Santander Universities and the British Council. Scholarship winners were awarded flights to the United Kingdom, accommodation for the duration of their visit and funding for a three week English language programme.
The 100 scholarship winners were then assigned by the British Council to one of three UK Universities who won a competitive bidding process to host the students for their studies. The students visiting Sheffield joined the ELTC's full-time University English course for three weeks in July 2023 to study General English, plus an afternoon option class on a topic of their choice.
As part of the scholarship the students were also able to participate in the ELTC's Social Programme, which offers optional weekend coach trips to nearby cities along with a range of regular activities and sporting opportunities throughout the Summer. During their studies the scholarship students were able to join trips to Leeds and Manchester on visits which not only showcased the captivating cities, but also provided chances for informal language practice, further enhancing the students' learning experience.
Letícia Cunha, a Business Analyst from Sãu Paulo, Brazil was elated with her experience and praised the standard of teaching she received. "All the teachers at the University of Sheffield not only managed to teach us a lot in such a short time, but also made us feel at home. Thank you so much, it was the best experience of my life."
David Sanchez Garibay, an International Relations graduate from Mexico, concurred with Letícia's sentiment. "In general the program was amazing. I had the opportunity to live, meet and take classes with people from all over the world, so it was a very enriching experience."
David joined an afternoon Business English option class and found it benefited his professional life. "It helped me a lot to gain confidence to speak in English in a social environment, but most importantly in a professional environment. Before these three weeks I probably would never have applied for a job where English was essential, but now I am in the middle of a selection process."
Helen Johnstone, the ELTC's Academic Director for University English, was delighted to welcome the scholarship recipients: "the Santander scholarship students were a pleasure to teach and gave our International Summer English language programme genuine diversity." 
A global reputation
Sheffield is a research university with a global reputation for excellence. We're a member of the Russell Group: one of the 24 leading UK universities for research and teaching.