Candyman and the Whole Damn Swarm - A 30th Anniversary Conference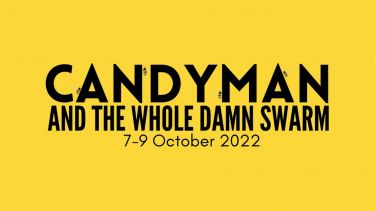 This is a collaboration between the Centre for the History of the Gothic at the University of Sheffield and University of California, Riverside. The principal organisers are Maisha Wester, John Jennings and Mary Going, and you can read more about them here. We are thrilled to announce our Keynote Roundtable featuring Dr Kinitra Brooks, Tananarive Due, Dr. Robin Means Coleman, and Jon Towlson – you can find out more details about our keynotes here.
We are also delighted to announce our special guests! As part of our "In Conversation" interviews, we welcome: Bernard Rose—Candyman (1992) writer and director; Tony Todd—Candyman (1992) lead actor; Win Rosenfeld—Candyman (2021) co-writer and producer; and Sherwin Ovid—Candyman (2021) portrait artist. You can find out more information about our special guest here.
30 years ago, director Bernard Rose created and released Candyman, a film loosely adapted from Clive Barker's short story "The Forbidden". Unlike Barker's original text, this Candyman was set in Chicago, specifically the urban ghetto Cabrini-Green, and seemed to focus on the tragedy of a Black artist who vengefully returns as a violent ghost after his brutal lynching. The film and its ideologies were complicated. Innovative in its starting point – a story of profound Black suffering which called attention to the racial injustice underpinning US society – audiences were also given a tale which reiterated ideas of Black monstrosity and illogical interracial violence. Notably, the film and its stars went on to win a number of awards, and spawned a franchise worthy of critical exploration.
29 years later, Jordan Peele and Nia DaCosta released the long-awaited Black response to the original film. Released in the midst of another wave of anti-Black violence, the film served as both tribute and corrective to the original, shifting the focus from the white heroine's quest (the center of the original film) to the terror and pain of Black men made monstrous and the Black women forced to act as witnesses. Ultimately this later film asked audiences "who is the real monster: Candyman, or the violent racist society which created him?"
This conference, a collaboration between the Centre for the History of the Gothic at the University of Sheffield and the University of California, Riverside, and taking place on Friday 7 – Sunday 9 October 2022, seeks to explore, critique and celebrate the legacy of Candyman as text, film and, in it's latest iteration, clapback…
Registration links and tickets can be found on the conference website.