Giving Something Back: My Guest Lecture on Filmmaking as an Arts-Based Research Practice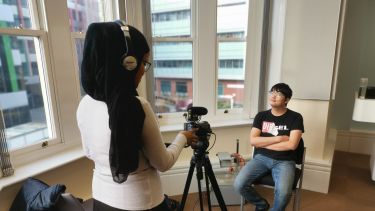 It was strange (but exciting) to come back to the School of English, as I did last month, as a guest lecturer on the English Language & Linguistics 'Research Methods' module. This January marks three years since I graduated from the School with a Master's Degree in Literature - roughly the same time that I had left English to take on a four-year PhD studentship (literally) across the road, in Education. In other words, I had roughly the same amount of experience studying English as the students I would be giving a lecture to - quite a daunting prospect.
Lauren Moon
Fortunately, I hadn't been asked to give a linguistics lecture. Instead, I'd been given the opportunity by Dr Roy Alderton to talk about what I had done since I'd left English: specifically, the use of filmmaking as an arts-based research tool for my PhD on community filmmaking and active citizenship.
Advocating filmmaking as a research practice in-and-of-itself, as opposed to a means of recording qualitative research data (which is usually transcribed back onto the written page anyway), acknowledges the same existence of extralinguistic knowledge and meaning that Ellsworth observes in poetry: 
Some knowings cannot be conveyed through language. They fall in the spaces between the fixed positions on the grids of grammar, definition, and syntax. (2005: 156). 
Ellsworth adds, "What does it mean that there are things we can't know or share through language, the very tool we have for exchanging knowledges already made?" (2005: 156). It is in pursuit of this question that Arts-Based Research practitioners such as myself continue to strive towards more multifaceted ways of generating and disseminating knowledge - including filmmaking and poetry - against the ever-present wave of academic convention. ABR practitioners do not disregard the usefulness of traditional modes and methods of research; we simply posit an alternative route.
Making a film can also be a more socially inclusive research practice than many traditional methods of so-called data collection. Rather than working within "the prohibitive jargon and limited structures that characterise much traditional research practice", arts-based practices like filmmaking "connect us with those who are similar and dissimilar" (Leavy, 2015: ix) and provide us with "a new way of thinking about and conducting research with the aim of reaching broader audiences" (Leavy and Chilton, 2014: 412). 
Rahma Saeed (left) and Yangfei Zhu (right)
Yangfei Zhu
This is particularly important for my project, as I'm working collaboratively with an external organisation: Kirklees Local TV, a social enterprise and community media outlet based in Huddersfield, West Yorkshire. To produce an 80,000 word thesis isn't likely to be of much use to an organisation that makes short videos and documentary films for a living. However, to make films as well as that written component presents the work I have done in a way that is not only more accessible to a wider audience, but also made available for use by the external partner. 
In other words, it is giving something back to the people who allowed me access to their workspace, use of their cameras and, most importantly, gave me their time - without which, there couldn't have been a project in the first place.
In this light, coming here to do my first ever academic lecture with English students felt like I had come full circle. It was as a second year undergraduate here in 2014 that I was given the opportunity to make my first ever research film, 'Born of Coal', under the supervision of Dr David Forrest and Professor Brendan Stone. That project had opened up to me a completely different way of doing research - one I felt so passionately about, that I'm now doing a PhD on it.
Lauren Moon (left) and Alex Guerrero (right).
Now, as a final year Education PhD student, I was coming back to English to advocate the same practice that David and Brendan had recommended to me all those years ago. In a way, it felt like I was finally returning the favour. I won't measure the success of this lecture on whether or not these students decide to use filmmaking in their own research projects, but rather, the fact that they engaged with the session, gave the cameras a go, and entertained the prospect of doing research a little differently.
Ryan Bramley (@RyanBramley93) is a final year PhD student and University Tutor at the School of Education, University of Sheffield. His doctoral thesis-in-progress, 'In Their Own Image: Social Empowerment and Active Citizenship through Community Filmmaking in West Yorkshire', is in collaboration with Kirklees Local TV. 
Works Cited
Ellsworth, Elizabeth, Places of Learning: Media, Architecture, Pedagogy (Abingdon: Routledge, 2005) <https://ebookcentral.proquest.com/lib/sheffield/reader.action?docID=214857> [accessed 13 Jan 2020]

Leavy, Patricia, Methods Meets Art, Second Edition: Arts-Based Research Practice (New York: Guilford, 2015) <https://ebookcentral.proquest.com/lib/sheffield/reader.action?docID=1910128> [accessed 13 Jan 2020]

Leavy, Patricia and Gioia Chilton, 'Arts-Based Research Practice: Merging Social Research and the Creative Arts', in Patricia Leavy (ed.), The Oxford Handbook of Qualitative Research (Oxford: Oxford University Press, 2014), pp. 403-422 <https://ebookcentral.proquest.com/lib/sheffield/reader.action?docID=1657789> [accessed 13 Jan 2020]