Online workshop: Dr Aris Clemons (University of Tennessee, Knoxville) - "They Spanish, They Ain't Black!" Language and Culture Sharing in the (De)Construction of Blackness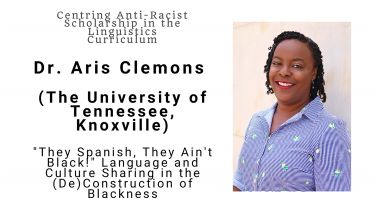 On Tuesday 15th June, 3.30pm BST, all are welcome to attend a workshop led by Dr. Aris Moreno Clemons from the University of Tennessee, Knoxville (@ClemonsAris) for an instalment in the series named "Centring Anti-Racist Scholarship in the Linguistics Curriculum", which will continue discussions around linguistic and racial justice in the Department. The workshop will begin with a talk by Dr. Clemons titled: '"They Spanish, They Ain't Black!" Language and Culture Sharing in the (De)Construction of Blackness'. In the final hour of the workshop, Dr. Clemons will be leading a session discussing current linguistic debates in raciolinguistics, the requirements for scholarship to foster an ethos of anti-racism, and highlighting privileges within positionalities and linguistic methodologies.
All students, researchers, and staff members are welcome to attend, regardless of your Department of study, particularly as the aim is to be as interdisciplinary and collaborative in our discussions as possible.
This event has been generously funded by the Linguistic Association of Great Britain's Student Committee (@LAGBSC).
Dr. Aris Clemons' biography:
Dr. Aris Moreno Clemons is an Assistant Professor of Hispanic Linguistics in the Department of Modern Foreign Languages at the University of Tennessee, Knoxville. She holds a Ph.D. in Hispanic Linguistics from the Department of Spanish and Portuguese as well as a Graduate Portfolio in Mexican American and Latina/o Studies from the University of Texas at Austin. She earned her MA in linguistic theory from Syracuse University in 2012 and continued her career as a high school Spanish teacher and administrator in Brooklyn, NY until 2016. Originally from the San Francisco bay area, Aris was raised by a group of social activists who significantly impacted her commitment to justice for both linguistically and racially minoritized students. This formation has spurred her interest in culturally sustaining pedagogies as well as her commitment to mentoring students traditionally underrepresented in the academy. As a scholar of language and race, her research examines how socially constructed categories are concretized in the public psyche. In particular, her work explores the impact of racial and linguistic ideologies and attitudes on the construction of 'self' at the individual and community level. Drawing on data from members of the emergent pan-ethnic grouping of Afro-Latinxs, her research problematizes racial and linguistic essentializations that result in the marginalization and further erasure of certain identities and the (re)constitution of colonially formed social hierarchies within educational contexts.
Schedule of the afternoon (BST):
3.30 – 4.30pm: Talk by Dr. Clemons titled: '"They Spanish, They Ain't Black!" Language and Culture Sharing in the (De)Construction of Blackness'
4.30 – 4.50pm: Q&A following the talk
4.50 – 5pm: Comfort break
5 – 6pm: Workshop discussion – 'Linguistics in a hyperracialized society: Fostering an ethos of anti-racism in language research'
More details on the workshop discussion:
In this workshop, I call attention to the ever increasing calls for linguistic justice, decolonization of language studies, and increased diversity and inclusion within the field of linguistics. Acknowledging and responding to the recent perspectives publications in the premier journal, Language, I argue that beyond position statements on race and increased diversity, antiracist scholarship requires transparent research subjectivities and an acknowledgment of the traditional privileging of certain positionalities and methodologies. Through a discussion of current linguistic debates, my research trajectory, and the race-based perspectives in my work, I advocate for collaborative research in the creation of more nuanced scholarship to challenge social injustices within the academy and within our society. More importantly, I speak about the ways that language studies can aid in the deconstruction of racial and pan-ethnic categories that have served to strengthen systems built on colonial frames of power.

As an activity, I walk participants through the use of social media data in the construction of linguistic corpora that attend to the sociocultural, historic, and racialized contexts of the content produced. Participants learn how to apply a raciolinguistic perspective to a set of data in a systematized manner.
Please send any questions for Dr. Clemons to Sophie Whittle (swhittle2@sheffield.ac.uk). If you have any questions about the event's organisations, please feel free to email Sophie.