School of English at Off the Shelf 2022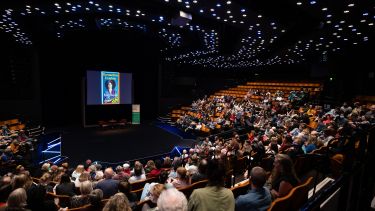 Australian Gothic: A Cinema of Horrors
Tuesday 25 October 2022, 18:00
Professor Jonathan Rayner discusses his new book, Australian Gothic: A Cinema of Horrors; a study of Australian horror cinema from the 1970s to the present, exploring the way films have been labelled 'gothic' and how they interpret Australian culture, history and identity.
Critics and commentators have noted, and celebrated but struggled to define a 'Gothic' trend in Australian Cinema since the 1970s. Building on previous definitions and readings of Australian Gothic film, this book offers an interpretation of the meaning and relevance of the dark, violent, humorous and uncanny aspects of Australian film based on four consistent themes and characteristics: Familiarity, Monstrosity, Hybridity and Sublimity.
Australian Gothic: A Cinema of Horrors – Professor Jonathan Rayner
How to Die Like a Romantic Poet
Thursday 27 October 2022, 18:00
This podcast features Dr Madeleine Callaghan, an expert on Romantic poetry, talking about her theme: 'How to Die Like a Romantic Poet'. Callaghan offers an exploration of the work of some of the most famous Romantic poets and how they dealt with the idea of death and the afterlife. For human beings, death is the ultimate mystery. We all know that we will die. We will lose people close to us. But we know nothing concrete about what comes afterwards. And that's where poetry comes in. Poetry attempts to represent our feelings, face the horror of death, and imagine what might happen in the afterlife. The Romantic poets were intimately acquainted with loss. This podcast discusses their poetry about death to think about what we can learn from them. Callaghan's talk includes William Wordsworth's Lucy poems, John Keats's early death and his poem, This Living Hand, how Percy Bysshe Shelley reacted to Keats's death with his elegy, Adonais, and finishes with a section on little-known female poet, Letitia Landon, and her poetry about her legacy living on after her death. This talk teaches us how to live, and die, like a Romantic poet.
Madeleine Callaghan's book, Eternity in British Romantic Poetry, is now available in hardback and as an eBook.