School of English student wins Faculty of Arts and Humanities International Masters Scholarship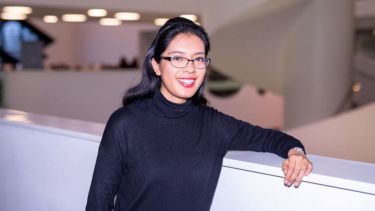 "The University of Sheffield is without a doubt a melting pot of cultures, that not only helps you to be the best version of yourself but also challenges your beliefs and ideas about the world."
How did you first hear about your scholarship?
I first heard about the scholarship through an email from the University of Sheffield and then I was reminded of the deadline through another email. At first, I wasn't going to apply because I knew how competitive the scholarship was and that my chances were probably not that high as I would be competing with several incredibly talented international students. However, a member of staff at the University advised me to apply and hope for the best and that's just what I did.
How did you feel when you heard that you were successful in being awarded the scholarship?
I was over the moon! It came as a surprise as I was preparing for the worst. Luckily, I was awarded the scholarship and I am very grateful for it as it would have been much more difficult to be in Sheffield without it.
How did you research the University to find out about studying in Sheffield?
I found out about the University during an education fair in Mexico City. The University programme and state-of-the-art facilities really appealed to me. When I arrived home, I went online and looked at the requirements to apply and started working on my personal statement.
What are you most looking forward to about studying in Sheffield?
I am looking forward to learning something new and getting out of my comfort zone every day. I want to make the most of the amazing lectures and seminars as well as take advantage of the best SU in the UK. I am also excited about meeting people from all over the world and making long-lasting friendships.
What would you say to a student considering studying at The University of Sheffield?
If you choose the University of Sheffield, you will have an incredible experience. I have no words to describe how incredibly kind, welcoming and helpful everyone has been. There are so many things to do everyday that you will struggle to fit everything in your schedule. In addition to this, you will get to enjoy Sheffield's beautiful greenery and Peak District. I am confident that you won't regret your decision if you choose this University.