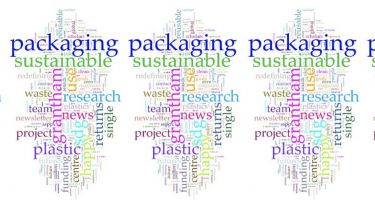 The Grantham Centre at the University of Sheffield has brought together a team of specialists, including chemists, engineers, geographers, psychologists and linguists, to better understand – and explore new ways of implementing – reusable plastic packaging systems. The Many Happy Returns project has received £1 million of funding from UKRI and builds on the work already completed by the research team in 2020 as part of Plastics: Redefining Single Use. Their aim is to help make reuse mainstream, and to try and move the focus away from recycling as a solution to our plastic waste crisis. This is because recycling ultimately enables high levels of consumption without challenging our toxic throwaway culture.
Why language?
Getting language under the microscope is central to achieving the aims of Many Happy Returns. Our Language team, comprising Prof Joanna Gavins, Dr Seth Mehl and Dr Emma Franklin, is currently in the process of gathering linguistic data that will help inform our understanding of consumers' attitudes towards plastic and reuse, as well as ideas on how best to present reuse systems to the public. Prof Gavins' previous work on the Redefining Single Use project has already helped to inform the development of a new on-pack reuse label by OPRL, the organisation that sets national standards for on-pack recycling labels.
The work we do is not standalone but connects directly with the other research being carried out on the project. For instance, our psychologist colleagues in the Willingness team are investigating, amongst other questions, the effects of using different names for reusable packaging – does it convey more value if we call it a "container"? What about a "case" or a "carrier"? The Language team will use empirical linguistics to contribute to these discussions . Not only will we be able to demonstrate how certain terms tend to be used by different segments of the public, but we also hope to be able to explain why that might be the case, drawing on data and linguistic theory. This will give us a solid basis on which to create recommendations for the public-facing bodies seeking to engage consumers in reuse and return schemes. It might be that we have to find new terms, or repurpose old ones, to get these messages across.
Read more on the project: http://grantham.sheffield.ac.uk/research-projects/many-happy-returns-plastic/