Unlocking the Private Life of Georgiana, Duchess of Devonshire Through Her Poetry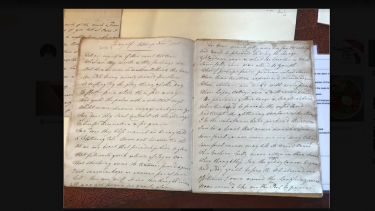 Whilst working on a Work Placement at Chatsworth House, arranged through the University of Sheffield's English MA Work Placement module, I was given the opportunity to look through the vast archives, which included private poetry written by Georgiana, Duchess of Devonshire. Whilst sifting through the archival material on the hunt for a research paper topic, I found a poem called 'To Myself' written by the Duchess, which shows a side of her previously unseen. 
The private side to a public woman
When I first read 'To Myself', I almost couldn't believe my eyes. It was like hearing Georgiana herself through the page, speaking directly about what it was like to be her; to be so famous at such a young age, and for everyone to think they know you; to judge you or categorise you without ever meeting you. It is an incredibly personal and intimate poem and shows a side of her that I hadn't seen before. 
Although Georgiana's life has been widely documented in biographies and biopics, it can still be difficult to truly know her. As much as we delve into what we know of her private life and its various scandals, it is still challenging to grasp what she thought of it all and how she saw herself in relation to her fame. 
Literary merit
The poem also struck me as significant because of its literary merit. As a student of manuscript verse, I jumped at the opportunity to analyse 'To Myself' and its intricacies. Even though the Duchess has had some works published which many critics assume to be hers, including two novels and a poem, these debates are often clouded by questions of authorship, as she never published anything under her own name. In cases where critics assert they are her own work, it is usually on the grounds of their biographical similarities to her life, meaning little attention is given to their literary strengths. 
However, I think that 'To Myself' could change that. What truly struck me was its distinctly mature expression of voice and imagery, and the way it sets out two different parts of Georgiana's personality which exist within her simultaneously: the public and the private selves. It shows a side of Georgiana that cannot be accessed through biographical depictions, namely her inner monologue. Georgiana was only nineteen years old when she wrote 'To Myself', which, when you read the poem, is particularly striking. She asks herself questions about her identity then answers back to herself in an attempt to come to terms with her public perception and how it relates to her private self. 
The first few lines are remarkable, using multiple pronouns to address her multiplicity: 'Tell me myself and if thou canst tell true / What thy merits and thy failings too' and she sets up public perception of her as an 'Idle being merely form'd for show / A trifling toy the plaything of the day / To flutter for a while then fade away'. She expresses a perceptive analysis of throwaway celebrity culture before its true wake, and she comes across as self-aware and mature, perhaps more so than we have given her credit for. It is clear she is aware of her own disposability in a world where she must 'Yield the palm with a reluctant sigh / As newer charms engage each gazer's eye.'
She uses a rich array of imagery, setting up a dichotomy between flowing streams and sturdy trees to express her duality of self. The flowing streams represent vanity and the follies of her youth, which carry her away despite her best efforts to resist. She admits she can easily be distracted by 'the rapid course and giddy youth before the whirlwind ran.' 
At the end of the poem, she uses trees to juxtapose the rapid stream of vanity and to establish a symbol of reason which equally resides within her, 'Yet oft times too in leisure's silent grove / Where not a breeze can through the branches move / Where thought seem'd graven on the spreading boughs / To reason's throne my Soul has part'd its Vows.' She paints a pastoral and intimate scene in the solitude of a private moment, where she joins with reason in a metaphorical exchange of vows.
---
Wider lessons for literary and historical research 
For any historians or literary critics who wish to know Georgiana a little better, as a fully formed woman with an active imagination, 'To Myself' is a wonderful place to start. It provides a much-needed glimpse into the inner life of a woman whose public life has been widely discussed. Rather than the political punchline or caricature of 18th century aristocratic femininity she was so often seen as, her private poetry reveals a much more complicated picture.
Perhaps we should pay more attention to her unpublished works and the potential they hold for insight about the nuances of Georgiana's personality. This poem in particular, I think, allows us to see and embrace her downfalls and view her as a complicated and nuanced woman, just as she saw herself.
Bibi Cox O'Brien graduated from Sheffield University with an MA in English Literature in 2022 and has since gone on to work in legal transcription. She is due to attend Oxford University later this year to pursue a DPhil in 17th Century women's poetry manuscripts.
Flagship institutes
The University's four flagship institutes bring together our key strengths to tackle global issues, turning interdisciplinary and translational research into real-world solutions.