"Get involved with the university outside of your academic studies. These are opportunities to develop skills employers are looking for."

Jennifer Yates
Global HR Project Leader, BorgWarner Inc
BA Theatre and Performance
2015
Jennifer is Global HR Project Leader at BorgWarner, one of the largest automotive suppliers in the world.
What are your main responsibilities?
Spot opportunities, scope out projects, lead, embed and drive talent programs globally that support the Talent Culture and Inclusion strategy. 
Project manage the cascade of new/enhanced initiatives and monitor their progress to ensure successful implementation and business results.
Lead the Talent Collaboration Network – our network of HR professionals across the globe who partner to create relevant TA tools and solutions for the business, cascade information, and provide continuous feedback.
Manage relationships with key providers to ensure we are making the most out of these partnerships.
Provide updates and presentations to the Talent Directors and HR Vice Presidents regarding progress against our strategy.
Partner with the broader Talent, Culture and Inclusion team on key programs that require input. 
Partner with the HR function, communications/marketing team and business as needed to drive and deliver key programs.
What other jobs have you had since graduating?
I began my career straight from university as an HR Analyst at Johnson & Johnson, as part of the Shared Services HR team. This was a temporary contract for one year which enabled me to get my foot in the door of an HR Career, from here I joined BorgWarner Inc as an HR Advisor and after 18 months I was promoted into the role of HR Business Partner. I held this role for three years and in this role my main responsibility was to provide strategic HR consultation to optimize people, structure, process, and culture. I also partnered with senior leaders to develop team talent strategies that enable effective succession and development planning. I applied internally for my current role, which I have now held for just over 6 months. 
How has your degree from the School of English and your time at the University of Sheffield helped you in your career?
I was president of the School of English Society (EngSoc) in my final year, and whilst the academic study is useful from a creative thinking perspective and being able to process difficult and complex tasks in the workplace. I found the experiences of running the society and being involved in events planning, fundraising, teamwork with the union etc. to be more transferable from a skillset perspective to the outside world of work. 
What is your greatest achievement to date?
I've been able to progress quickly within my career, and have continued to study my CIPD Level 5, CIPD Level 7 and my MSc in Strategic People Management, all of which have been fully funded by my employer. To be able to progress at work, and be supported in further education is a proud achievement. However, to date, I would say that at work my greatest achievement is being the CSR lead for my company and having the opportunity to travel to Sarajevo with company leadership to learn more about our partnership with SOS Children's Villages and support local activities in Sarajevo such as rebuilding a children's playground.
What career advice would you give to a student interested in studying English?
Try to get involved with the university outside of your academic studies, like being involved in a society committee or a sports team. These are fantastic learning opportunities that develop skills employers are looking for: communication, teamwork, collaboration, respect and inclusion. Developing these skills alongside your academic studies will help you in your working career and, more importantly, in interviews.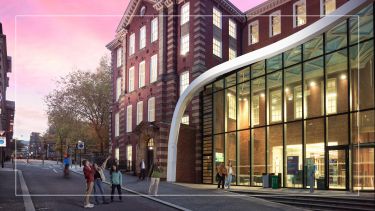 Visit us
Discover what sets Sheffield apart at our undergraduate open days on the Saturday 21 October or Saturday 18 November.