Literature of the English Country House: Finding the home of Mr Darcy
As learners on Literature of the English Country House finally arrive at Jane Austen week, we speak to Lauren Nixon (current PhD student and Author of 'The Complete World of Jane Austen'), to get her views on the great Pemberley Debate.
If there was any doubt of the importance of the country house in the works of Jane Austen, then Pride and Prejudice would be the novel to dispel it; after all, it is her 'first seeing his beautiful grounds at Pemberley' that induces Elizabeth Bennet to change her mind about Darcy.
In Austen, as in Regency society, a house is always more than a home: it is an expression of class, of taste and of character and Elizabeth is moved by Pemberley because it reveals to her a part of Darcy she hadn't yet been able to see.
Pride and Prejudice is perhaps Austen's most famous novel, and as a result Pemberley is her most famous country house. Today, when we think of Pemberley we often think of Chatsworth House in Derbyshire. So much so is Chatsworth linked to Pemberley that it made a fitting location for the 2005 film adaptation of Pride and Prejudice and 2013's BBC adaptation of Death Comes to Pemberley. 
Chatsworth is often suggested as the inspiration for Austen's own grand Derbyshire estate and though it certainly fits the bill, there is an issue here: Austen never visited the house- or even the county, for that matter.
She would have certainly been familiar with it. The Devonshire's were infamous, after all, and Austen would have been familiar through sketches, descriptions and literature with the house (it is in fact mentioned in Pride and Prejudice, as a stop on Elizabeth's tour with her aunt and uncle.)
The country house at the heart of all Jane Austen's work may not be named in her novels, but it provided Austen with the insight and understanding to create Hartfield, Mansfield Park, Kellynch Hall and of course, Pemberley: Godmersham Park, a beautiful Georgian estate in rural Kent.
Godmersham became the home of Jane's brother Edward Austen when he was adopted into the Knight family, distant cousins in possession of estate and fortune with no children of their own to name their heir. Prior to Edward's ascension to the landed gentry, the Austen family, though genteel, had occupied a much lower rung on the social ladder.
Edward's inheritance of Godmersham Park, alongside a smaller estate at Chawton in Hampshire, allowed Jane an insider's understanding of the landed classes, of what it was to own, manage and live within a country house.
Her first three novels Northanger Abbey, Sense and Sensibility and Pride and Prejudice (in terms of when they written, rather than published) all occur primarily within Austen's own social space. Here, country homes are to be visited and marvelled at, rather than dwelt in.
Yet those novels set after Jane's experiences with her brother and his family at Godmersham - Mansfield Park, Emma and Persuasion move within the country home. Indeed, much of the description of Mansfield Park match that of Godmersham Park and Emma Woodhouse could never have existed without Austen's niece Fanny, who took over running the house after the death of her mother.
Though Chatsworth House may be Pemberley's spiritual twin, it is Godmersham Park that brought it to life.
---
Written by Lauren Nixon on 22 July 2015.
Lauren is the author of The Complete World of Jane Austen. Follow Lauren on Twitter.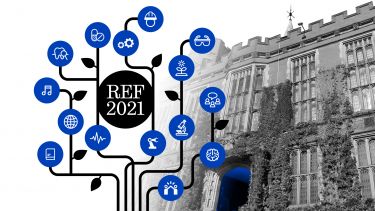 Research Excellence Framework 2021 results
The results demonstrate our research and impact excellence across a broad range of disciplines and confirm that our research is having a significant positive impact on lives across the globe.