Since moving into my new house, I have found a couple of my housemates joining me for regular walks of varying lengths and routes has re-ignited an old passion. However, it's not just about the walking, it's about the places I have been walking. The majority of that has been in the Peak District.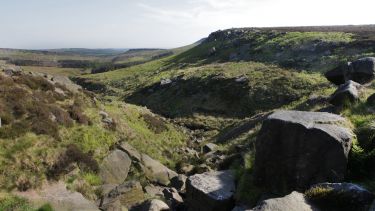 I may have mentioned once or twice about my fondness of walking and hiking – it does creep in now and then. But I really do enjoy it!
Matlock and Matlock Bath
For those who haven't been, you're in for a treat. There's some lovely old-y-world-y shops and cafes and scenic streams to pleasantly stroll besides. There's a great selection of antiques shops and other creative crafts shops too.
There are a couple of wildlife sanctuaries open for visitors so that they can fund the welfare for their animals, and there's even a valley that stretched for a couple of miles known as Lumsdale Valley that has its own stream and some sort of old ruined wall or walkway situated in a forest not too far from the sanctuary.
Bakewell
Bakewell is another one of the well-renowned places to visit in the Peak District. As the name may imply, it is where that famous baked English tart comes from.
It does have some wonderful walks to get stuck into around there. There are also, not just one, but two claimants for the original Bakewell bakery. A place with plenty of history about baking – which can't be bad, and you'll definitely leave knowing the difference between the pudding and the tart (yes, they are different).
Eyam
Eyam is historically known as the plague village of the Peak District and the quaint little village itself has lots of reminders and plaques about the morbidity of the incident. Given recent issues, it's a good place to visit to see how a medieval pandemic would've panned out.
The village does have a little courtyard full of a few cafes, craft shops, one library, and an artisan ale shop. Further down past the historic stocks, there's a village triangle where two lovely tearooms reside.
Chatsworth
Chatsworth, a name you may have heard as a host for some rather royal flower shows, is a stately manor and gardens with large grounds. You can go walking around and come across some of the deer that live there.
It's a wonderful place that has its own Christmas market (obviously in the festive season) and if you're lucky enough to get into the amazing gardens, there is a maze – though I have not seen it yet.
Chatsworth is one for the walkers because there are miles and miles of rolling hills and green pastures with deer and sheep plonked upon it along the way. Be sure to bring a map and a compass because signal out there is sparse indeed.
Castleton
Castleton is one of those places that is also very well known, especially to those who live around here. It has one of the most picturesque little streets I can think of with some gorgeous photo opportunities; the bakeries and pubs there are top-notch, and there's a glut of jewellers to dazzle you with as well.
Blue John is the semi-precious gem that comes from Castleton, and only one other place in the world, four of the five mines are in Castleton and of these, you can visit all four! I'd recommend it as there are some amazing sights underground and one even has an underground boat (that's Speedwell Cavern).
There's also the amazing Mam Tor to traverse up to from the village and stop halfway at Blue John Cavern and Café. Carrying on up to the top, you can see the expansive and beautiful panoramic of the area (which is actually on one of the idents for Channel 4).
You can also start halfway up already if you desire and drive or walk through the breath-taking valley of Wynatt's Pass. Once you are up Mam Tor, there are a number of ways you can go and about six different walks you can find yourself on. Again, a map and compass is a good idea around there and be sure to bring cash to the village as they don't have a cashpoint, only a post office that can do certain cards only.
Bamford
Bamford is home to none other than Ladybower Reservoir, well, not really. I know the one you're probably thinking of though, and its real name is Derwent Reservoir. This is a great place to go if you want to see some huge plugholes.
The expansive woodland walk around the two merging reservoirs is quite a gargantuan one and there are so many different trails to go on. It is about twenty minutes from Sheffield (achievable by bus) and has the lovely Ladybower Inn to eat at after a long day's walking.
Bugsworth
Bugsworth, as written by the locals (Buxworth to us), is a place where I stayed for most of the first lockdown – I got to know it very well. The grand union canal system starts its most northerly point here, and it's by a pub called The Navigation Inn. The Navigation Inn is a great place to eat and stay – though be wary of the landlord's humour, he is especially grumpy towards newcomers (strange business model, I know).
Around the village, there are some amazing walks up and down valleys, past canals, through woodlands and it is not too far from where the water [Buxton] comes from.
If you walk up a little street called Silk Hill – which is very close to the Navigation Inn, you'll go over a lovely little lane that bridges to the next village, Whaley Bridge. That has more to do in terms of shopping and eating, but Buxworth really is a stunningly peaceful place.
I do hope that even in the approaching winter months you'll take the time to visit some of these places. I hope I can help inspire some choices for those of you wanting to go to the Peak District.
---
Written by DP, Digital Student Ambassador, on 7 December 2021.
Events at the University
Browse upcoming public lectures, exhibitions, family events, concerts, shows and festivals across the University.