It's spooky scary skeleton time
Autumn is upon us and that means one thing, Halloween. As someone who never actually took part in Trick-o-Treating or went to Halloween themed parties growing up, my relationship with the holiday was only fostered in my late teens and early adulthood.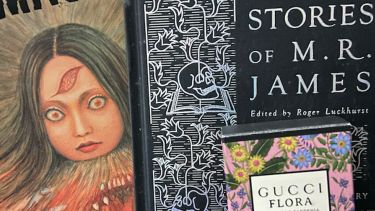 Don't get me wrong I watched all the formative classics, I remember watching The Corpse Bride, Coraline, Twitches, Halloweentown, Hocus Pocus, The Nightmare Before Christmas (this one took much deliberation, Tim Burton purposefully threw off my 11 year old self), Casper and of course everyone's favourite macabre brood, the Addams Family.
However, my interest in Halloween was conscribed to the media alone; taking part in costume contests, bothering the neighbours for sweets, going to pumpkin patches and decorating cookies were never activities I took part in, my parents just were not Halloween people.
But, this did not mean I didn't look forward to Halloween every year, I love horror movies, pumpkin carving, wearing costumes and pumpkin spiced everything, so as a newly independent adult, autumn is a special time for me because it represents the fact that I have the ability to celebrate a holiday however I want and have the freedom to live out my childhood dreams.
So as a newly liberated lover of Autumn and all things Halloween, I am going to talk about my favourite things to read and watch during the spooky season - maybe a dated joke, but it's the season for ghostly regenerations.
Manga
If you are a regular manga reader or lover of Japanese content, you will understand when I say, Japanese horror mangas and animes are no joke. Within the world of Japanese horror mangas, there are no boundaries, there is no regard for your comfort and little space for interpretation.
The artist does not allow you to censor a particularly horrific scene to protect yourself, but rather will shove a detailed image of the scene and show you multiple angles. Horror mangas are not for the weak willed, and I have an unhealthy love for them.
For my regular manga consumers the names Junji Ito, Kazuo Umezu, Hideo Yamamoto, Sui Ishida and Yukito Ayatsuji will ring a bell, for those of you that are unfamiliar, theses are some big names in the horror community. Their story telling and artwork will have you recalling in disgust within a few pages and the world they build is not comforting.
They are not interested in creating worlds of sensibilities, but rather constructing ways the human body can be transformed, altered and destroyed. I highly recommend delving into the world of Japanese horror when you're ready, because it gets intense.
For those of you intrigued but do not want to drive straight in, I have the perfect recommendations.
Another by Yukito Ayatsuji
Synopsis: In 1972, popular student Misaki suddenly and mysteriously passes away, unable to accept her death, students and teachers behave as though Misaki is still alive, leading to the presence of her ghost in the graduation photo. Since the incident, every year since 1972 every student of the infamous class 3-3 are struck with mysterious and gruesome deaths. New student Koichi Sakaibara and classmate Mei Misaki must figure out the supernatural cause of these sudden and brutal deaths before it's too late.
Parasyte by Hitoshi Iwaaki
Synopsis: Shinichi Izumi's life is completely changed when parasitic aliens invade Earth and take human bodies as hosts. Shinichi should have fallen victim but for some reason his parasitic invader fails to infiltrate his whole body and instead resides in Shinichi's right hand. In a venom style story, both are forced to join forces and fight against other parasites out to kill them.
Smashed by Junji Ito
This is my current read of the season. In this collection of horror stories by the king of the genre, this is a perfect opportunity to witness the man in action as he welcomes you into the strange world that resides in his mind. This is perfect for those of you who do not want to commit to a whole series.
Movies
Some movies are widely recognised classics in the genre, if you think of iconic horror movies to get you into a Halloween mood, you might think Halloween, Nightmare on Elm Street or The Conjuring. However, if you are a little tired of the classics, there might be a few gems that you might not be aware of and I think it would be a crime to not make them more widely known. I personally find these all very scary or suspenseful, but if you disagree feel free to tell me that I am a big baby. And in the spirit of mystery and suspense, I will only explain the movies in one word.
The Wailing - Mountains
Incident in a Ghostland - Dolls
Terrifier - Clowns
Anything for Jackson - Grandparents
The Call - Landline
The Cleansing Hour - Livestream
His House - Asylum
Antebellum - Power
The Platform - Survival
The Invisible Man - Freedom
The Autopsy of Jane Doe - Witches
The Witch - Goat
Hopefully during this Halloween season you get the chance to venture outside the usual repertoire of horror films and shows and try something new. The classics are great but they were once new too, so why not give something new a chance, it might surprise you.
---
Written by Valentia Adarkwa-Afari, Postgraduate English Literature, on 26 October 2021.
Events at the University
Browse upcoming public lectures, exhibitions, family events, concerts, shows and festivals across the University.