Undisciplining Victorian women - Estelle Bolon
Over June and July, another student and I participated in a project called 'Undisciplining Victorian Women', run by Dr Amber Regis and Dr Anna Barton to develop two modules, EGH31011 Middlemarch and EGH218008 Victorian Women Poets: Stressing Sex.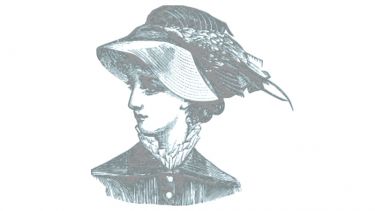 The project was part of a placement scheme through the School of English that also included an employability aspect, which aimed to help students consider how work experience could be communicated on the CV or in interviews.
The first time I write "undisciplining" on my laptop, it is underscored by a distinctive, red, wavy line. Have I spelt it wrong? Word suggests that I change it to "disciplining" or "undisciplined"; it seems the process to become the latter has escaped the need to be defined by the dictionary.
And why should it need to be included when "discipline" is largely considered to be the ultimate aim? If something or someone is undisciplined, it is because they are lacking discipline, untouched by its influence, not because they have actively worked to get to the point of being undisciplined (slightly confusing). The concept of "undisciplining" might seem unfathomable but its usefulness should be considered as valuable as its counterpart, especially within academic institutions.
This word is clearly going to be crucial within the project. So, I double click on it, and choose to Ignore All.
It definitely seemed to be a fitting introduction to my involvement on the project 'Undisciplining Victorian Women', which was modelled around recent calls to reconsider and resist established critical thinking in Victorian Studies as a whole.
The project's name is indebted to 'Undisciplining Victorian Studies', a recent article by Ronjaunee Chatterjee, Alicia Mireles Christoff, and Amy R. Wong in which they refuse to read canonical nineteenth-century texts 'universal "classics" – great literature that exists beyond the particularities of race." Instead, they ask people to recognise the expansiveness of racialisation during the period, thinking 'beyond the monolith of "empire."'
My involvement as a research assistant on the project was to implement these ideas into the module reading lists and teaching activities, to question whiteness in the text and the classroom. This would be done through finding under-represented scholarship, building a bibliography that centred race and empire and then using these findings to aid in creating seminar ideas that would be inherently "undisciplined."
When I initially read the proposal for the project I was immediately intrigued. I had just finished my last year of my English and History degree, having spent the final year completing a special subject in 'Capitalism and Identity in 19th century Britain.'
In my first term I had also done a module on 'Romantic and Victorian Prose,' which was interesting, but I spent the whole time wondering why the syllabus was so narrow, and failed to include so much crucial contextual information.
Through the process of "undisciplining," these modules exploring George Eliot's Middlemarch and various Victorian women poets would disrupt previous traditional ways of teaching, providing students with a better understanding of how the Victorians, and how histories of the Victorian period, emphasise whiteness,
heterosexuality, wealth, etc.
I think the most important thing I learnt from 'Undisciplining Victorian Women' is the relevance of the period's context. Although I realised before that the nineteenth century had striking similarities to modern times and showcased primary constructions of our society's thinking and biases, I now appreciate more the way in which literature itself can be used as a significant way of understanding our present. Not to throw around the word "relatable," which always seems to be considered a synonym for important, but the happenings of the Victorian period are just that (although thankfully there are some major differences).
In thinking about the perspective of readers during the 19th century, it illuminates our own personal biases, and what affects the way we read these classical texts. I was also pleased to see that there was actually a great deal of scholarly work that focused on centring race, or didn't take a Eurocentric view towards the Victorians, meaning that different narratives are beginning to be communicated and respected.
It is well known that literature does not stand alone. Instead, it is a culmination of an author's external and internal influences, representing moments in time but communicating specific morals and ideas. Through decolonising university syllabi, we can appreciate greater how these influences came together, understanding works within the greater context of the Victorian period.
This means deconstructing our ideas of what is a "classic," what narratives to prioritise, and who we are reading. All the while we must consider who we are as the reader, or scholar, and what that means for our interpretations. "Undisciplining" is a complicated but necessary process, that I think should be more highly valued in teaching, as there is still a long way to go.
At the end of the project we were asked to recommend our top seven books for Western Bank Library to display and order for the collection. These were my seven recommendations:
Anne McClintock, Imperial Leather: Race, Gender, and Sexuality in the Colonial Contest, (New York: Routledge, 1995)
Shaikh, Fariha, Nineteenth-Century Settler Emigration in British Literature and Art', Victorian Studies (Edinburgh: Edinburgh University Press, 2018)
Shabkhez, Ibreez, 'Fascination and Alienation Associated with the 'Native Other' in Victorian English Literature: A Study of the Imperial Gothic', in Young Scholars' Developments in Philology: Cultures in Discourse ed. by Yulia Lobina (Newcastle: Cambridge Scholars Publishing, 2018), pp. 53-61
Chang, Elizabeth, Britain's Chinese Eye: Literature, Empire, and Aesthetics in Nineteenth-century Britain (Stanford: Stanford University Press, 2010)
Garcia, Humberto, England Re-Oriented: How Central and South Asian Travellers Imagined the West, 1750-1857 (Cambridge: Cambridge University Press, 2020) 
Griffith, Jane, Words Have a Past: The English Language, Colonialism, and the Newspapers of Indian Boarding Schools (Toronto: University of Toronto Press, 2019)
Stafford, Jane, Colonial Literature and the Native Author: Indigeneity and Empire (Switzerland: Palgrave Macmillan, 2014)
Quotations are taken from the Los Angeles Review of Books version of 'Undisciplining Victorian Studies', 10 July 2020, https://lareviewofbooks.org/article/undisciplining-victorian-studies. A revised and extended version of this essay appeared in Victorian Studies, 62.3 (2020), 369-91 – University of Sheffield students can access this later version via StarPlus.
---
Written by Estelle Bolon on 23 September 2021.
A world-class university – a unique student experience
Sheffield is a research university with a global reputation for excellence. We're a member of the Russell Group: one of the 24 leading UK universities for research and teaching.