'What is Old?' is a University of Sheffield community engagement project.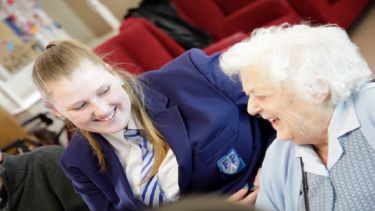 Off
In collaboration with the creative arts charity Ignite Imaginations, 'What is Old?' is designed to engage older and younger generations from the local community with questions of age and ageing.
Through a series of creative workshops, local Year 9 pupils have been reflecting on their own and society's attitudes towards, and understanding of, ageing. The pupils teamed up with older people from residential homes to reflect on a set of themes (gender, beauty, health and the body, family, work and money), while using art as a fun medium through which to 'break the ice'. Each theme was designed to stimulate thought and discussion about the many areas of our social, cultural and family life which intersect with questions of age(ing). To help me with further discourse analytical research the students also kept a journal of their thoughts and ideas during the project.
The research element to the project is to understand how different generations describe ageing and if this changes when the generations get to know and understand one another more. It seems that even within the rather short timescale of this pilot study the pupils' understandings of old age changed, not least with respect to the lifespan. In our first workshop many of the pupils felt that 'old' begins at 50. After engaging with residents ranging in age from 67 to 99 and with diverse life histories, they began to see that – as one pupil put it – 'age is more than just a number'. We celebrated the end of this phase of the project with an exhibition of the artwork produced by the participants. Some of this is captured in the photos on this page.
---
To learn more about the project, watch the brief video below!
Written by Dr Jane Mulderrig, Senior Lecturer in Applied Linguistics, on 11 July 2016. 
Flagship institutes
The University's four flagship institutes bring together our key strengths to tackle global issues, turning interdisciplinary and translational research into real-world solutions.