Working nine to five, autumn to spring
Summer is speeding along; the bright sunlight is shining (periodically), the beer gardens are filling up, Freedom Day is creeping upon us – and I am still doing University work. In this blog post, I would like to share my experience of deferred University studies and working over the summer.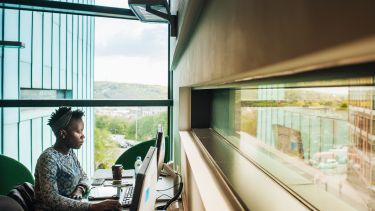 ---
The first floor was once bustling in exam season, students with a furrowed brow hard at work and staving over a drink from Coffee Revs. Now, silence, you could hear a pin drop.
---
Walking into the library, gliding through the barriers; there is a silence that has fallen over the IC. Booking a space is no longer a fight, no more waking up at 7.00am to grab yourself a seat. The first floor was once bustling in exam season, students with a furrowed brow hard at work and staving over a drink from Coffee Revs. Now, in silence, you could hear a pin drop. Fewer friendly grins and less of a queue for the toilets.
However, the students who still remain are in quiet solidarity with each other, we will preserve until we are finished. To truly elaborate on my experience, I am currently working whilst my friends are drinking outside in my garden. Though, I have decided to utilise this: in turn asking them to comment on their experience of either still working or finishing their degree in the pandemic.
---
Katie: "It feels bad, it is not great watching everyone finish and get final results when you are not done. However, I know this is what I needed to do for myself – I am proud of myself for reaching this point and not giving up."
Horia: "I had to work hard every day. Consistency is the most important thing."
Anneka: "I feel sorry for Katie. I hated doing my dissertation, I found everything really difficult to cope with."
Toby: "I was incredibly happy when my dissertation was done. It was a difficult process, but I am proud of the result. It was something I had a genuine interest in, which made it easier, but it was still very hard."
Harry: "I am anxious knowing my friends are done, and knowing you have so much left to do - it is difficult…" Do you enjoy taking days off with them? "No… I probably don't deserve it. So much work, so little time". Clarification from the interviewer, Harry does deserve breaks – he needs to give himself more credit for how well he has done this year.
Becky: "I only got two weeks to write my dissertation. It is unfair still having to do it over summer for some people, but there has been a pandemic. It is good people were given extra time when they needed it."
Léo: "It was difficult doing it all online. There was no direction on the topic, and I didn't get to work with anyone else. Feedback was often late and inadequate but having a kind supervisor is lifesaving."
---
Over this last academic year, I have struggled to keep up with the third year workload. Within the pandemic, I have had issues with motivation, timekeeping, anxiety, and perfectionism. According to a study from Young Minds, 67% of young people said the pandemic will have a long term negative effect on their mental health. The increase in mental health issues has not been adequately reflected in the government response, with no backing NHS and mental health services.
It is undoubtedly a draining experience to continue working once the rest of your cohort are getting their final grades, celebrating in the sun, and looking forward to their future. Alas, it was the right choice for me.
Using the option to defer and take extensions has massively taken off the academic pressure when it felt like I could not complete it – it has allowed me to prioritise my mental health. It has given me the chance to take the time to refine my ideas and understand why I love my subjects.
If you are considering using any form of extension or extenuating circumstances, here are some tips. It is important to be in contact with your personal tutor, they will first and foremost give you the guidance needed if you feel you need extra support.
Secondly, understand what kind of evidence you will need to argue your case – more about this can be found on the School of English Student Support Hub. Finally, understand that if you do go through with it, it should be celebrated that you put yourself first.
Thank you to the interviewees, my friends, for their time and tipsy comments. Congratulations to everyone receiving results, you have done an incredible job working through the pandemic and getting to the place you are today.
---
Written by Hannah, third year, English and History, on 19 July 2021.
A world top-100 university
We're a world top-100 university renowned for the excellence, impact and distinctiveness of our research-led learning and teaching.