Zooscope: The animals in film archive
I'm so proud of what the students have achieved by producing ZooScope. In addition to working really hard all the way through my course "No Animals Were Harmed in the Making of this Module: Animals in Film", they've designed and made a really useful resource for researchers all over the world.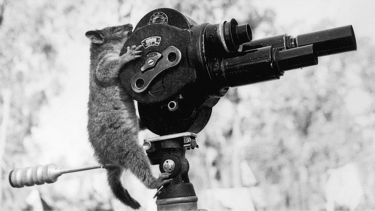 The site has already had well over 2000 page views from all over Europe and the world — from India to Norway to Canada and all points of the compass — so it's fantastic to think of students' research reaching such a wide audience.
ZooScope is a resource about the presence of animals in the history of film. Each post includes information and analysis about the presence and meaning of animals in a film. Users can navigate by the categories and tags found at the bottom of each page to filter the archive by film genre or by the presence of specific animals or aspects of human-animal relations in the films.
One of the major critics of animals in film, Jonathan Burt, recently praised us (in his own inimitable way) on "the scary website that contains everything. Fantastic and congratulations."
But don't just take it from him, here's what some of the students said:
---
Actively being part of the ZooScope blog and publishing our own work provided a great opportunity to gain insight into how secondary reading is constructed and published on websites of its kind.
---
All our work felt important by being able to contribute to Zooscope. Very proud to have done this module!
---
It felt useful. I think as an English Literature student, it often seems that what we write is of no direct use to anyone. This module however makes use of our work and the subject is something I really feel passionate about influencing.
---
I'm really looking forward to working with a new group of students next year, who'll be able to take ZooScope on in new directions and publish their research too. It's very inspiring to me to sense that I don't know what these new students will come up with, and that I, along with all the other readers of ZooScope will be able to learn from them.
And finally — Zooscope is not just for my students: anyone can contribute. If you've been interested by the presence of animals in film and want to write about it, have a look at the submission guidelines on the site, or just get in touch.
Next year there will be a new section called "ZooScope Zoom" for shorter pieces, too. So if you fancy writing something about that coyote in Collateral; the toy monkey James Dean plays with at the start of Rebel Without a Cause; or the weird taxidermists workshop in The Man Who Knew Too Much, or something else entirely just get in touch via the site.
---
Written by Bob McKay, on 5 July 2013.
A world-class university – a unique student experience
Sheffield is a research university with a global reputation for excellence. We're a member of the Russell Group: one of the 24 leading UK universities for research and teaching.