BA English Literature (Part Time)
Foster your love of literature, film, theatre, creative writing and more. Explore literary cultures from the medieval to the present day, engaging with diverse texts and media from all over the world and developing your skills as a critical, creative and independent thinker.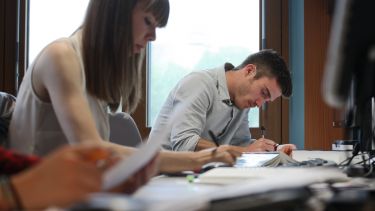 Course details
Entry requirements: AAB at A Level, or equivalent
Duration: 6 years
Programme code: LITU15
---
How to apply
To study this course part-time, you will need to apply through our online application form.
Course description
Our core module at level one, Renaissance to Revolution, is the starting point for the chronological study of literature which is central to our Sheffield degree. You'll be able to choose from a wide selection of optional modules, including Studying Theatre, Introduction to Cinema, Creative Writing and Early Englishes. As well as representing the varied areas of study available within the School, all first year modules provide degree-level study skills to help you expand your knowledge and develop as a scholar.

At level two, your core modules build on the experience of year one, completing the chronological spine to your degree and equipping you with complex critical and theoretical approaches to unlock the study of English literary cultures in all their forms. There are also options to extend your core studies, which can be based on single authors, genres or literary movements, reflecting the cutting-edge of research.

There are no core requirements at level three You choose from modules based on research-led teaching and will engage in focused, in-depth work with tutors who are experts in their field. You'll also have the opportunity to complete a final year dissertation on a topic of your own choice, with the support of dedicated supervisor.

Throughout your degree, you'll be studying in an environment dedicated to high-quality teaching, world-leading research, and innovative public engagement. Outside your degree programme there are also many ways in which we can help you develop your interests, insights and critical faculties.
Modules
For detailed information on the modules available at all levels of this course, please see our BA English Literature course page (linked below).
Teaching and assessment
Throughout your degree, you will be taught through a mixture of lectures and seminars. Lectures are designed to give you a grounding in a particular topic and to introduce you to the surrounding theories, concepts and ideas. Seminars give you the chance to explore these topics in greater depth, to develop your own ideas and to share these through discussion with your tutors and fellow students. Our academic staff are experts in their field and use their cutting-edge research to inform their teaching and the content of the modules you will study.
The essay is the staple of assessment for English Literature students, allowing you to develop your writing skills through a continual process of practice and feedback. There are also a small number of traditional timed exams. Depending on the modules you choose, you will also experience a range of other assessment methods such as group presentations and poster design.
Entry requirements
AAB at A Level, or equivalent. For a full list of qualifications we accept, please see our BA English Literature course page (linked below).
If English is not your first language, you must demonstrate that your English is good enough for you to successfully complete your course. For this course we require: GCSE English Language at grade C/4; IELTS grade of 7.0 with a minimum of 6.5 in each component; or an alternative acceptable English language qualification.
Alternative English language qualifications
Fees and funding
For information about tuition fees and other financial information, visit our undergraduate fees and funding webpages.
Related information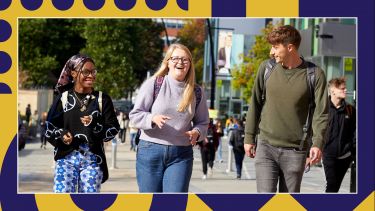 Advance Register for Clearing
We have places on our undergraduate courses this autumn. If you've already got your results you can apply now, or if you're still waiting for results get your name on the list by advance registering.