The academic aptitude and personal skills that you develop throughout your degree will make you highly prized by employers, whatever your chosen career path after university.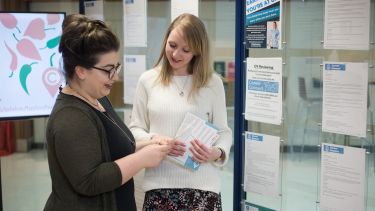 Practical skills are embedded throughout all of the degree programmes we offer at the School of English. Throughout your studies, we will support you to gain and develop essential attributes we know to be valued by employers, including:
Excellent written and verbal communication skills
Time management and organisation
Research skills through the use of databases, archives and libraries
Engagement with cultural and social diversity through reading, writing and working with other students and the community
Articulating knowledge and understanding of texts, concepts and theories
Leading and participating in discussions
Negotiation and teamwork
Creative and independent thinking
Critical reasoning and analysis
Career options
Because the study of English is also the study of language, and because language is part of every aspect of human life, your degree will equip you with the knowledge and skills to pursue a career in an incredibly diverse range of fields. 
Our graduates have an extremely high success rate at finding employment, and we have alumni working all over the world in a variety of different professions, including: journalism, the charity sector, marketing and communications, theatre and television production, PR, copywriting, publishing, teaching, web development, accountancy, and speech and language therapy, among other fields. Graduates from the School of English have joined a wide range of organisations including the BBC, Innocent Drinks, OVO Energy, PHA Media, Bank of England and Sheffield Theatres Trust. Our alumni include Helen Monks (actor, Raised by Wolves, Upstart Crow), Lucy Prebble (playwright) and Adeola Solanke (playwright and screenwriter). 
To find out what some of our alumni have been up to since graduation, check out our alumni profiles page.
---
There are many extra-curricular and work experience opportunities available within and outside your studies, including studying abroad in Europe or further afield, or undertaking a work placement for a short period or up to a year. 
Placements
The Careers Service can help you find short-term and summer placements, both of which are a fantastic way to gain valuable skills and workplace experience. 
How to find a placement for current students and prospective students. 
Study abroad
Students in the School of English have a fantastic opportunity to spend all or part of their second year studying abroad at a partner university, either through the Erasmus+ programme or our Study Abroad scheme. 
Volunteering
Sheffield Volunteering helps students of all levels to make an impact in our city through community volunteering. They have hundreds of different projects to choose from, including conservation and environmental action, working with children and young people to help improve their reading and creative writing skills, and helping charities with their communications and social media presence, among many other opportunities. Volunteering is a fantastic way to build your own skills whilst sharing your enthusiasm and experience with the Sheffield community.
Search for a volunteering project
---
Careers Service
The University Careers Service can offer you a wealth of advice and support, both during your studies and after you graduate. As well as hosting an extensive programme of events - including careers fairs, talks from employers and workshops tailored to School of English students - they can provide 1:1 advice, support you in finding work experience, and hep you hone your application and interview skills. 
---
Further study
Your undergraduate degree will stand you in excellent stead for postgraduate study, and many of our graduates decide to stay on and take advantage of our diverse range of MA courses and PhD opportunities. 
Stay connected with your University
Experience all the benefits and services that come from being a Sheffield graduate.