Matthew Plant studied BA English Literature and now works for the British Council as Arts Manager for South Asia. He chose Sheffield because the course allowed him to study theatre alongside literature, something which has proved invaluable in his career since graduation.
Off
Matthew joined us on our City Connections project providing networking advice and support to our current students.
What are your main responsibilities? 
Based in the UK, I have responsibilities for the British Council's work in the arts across Afghanistan, Bangladesh, India, Iran, Nepal, Pakistan and Sri Lanka. I have a particular interest in the power of the arts to cultivate civic and social change. My responsibilities include: 
Shaping the strategic direction of the South Asia arts programme in supporting: community cohesion and inclusion; strong sustainable creative sectors; diverse expression of voices; the empowerment of women.
Heading our South Asian arts activity in the UK, giving audiences access to a range of creative outputs from South Asia, engaging the diaspora and surrounding populations in the UK and challenging current perceptions of South Asia in the UK. 
Building strong partnerships and networks in the UK's arts and culture sectors. 
Managing the evaluation for the region, articulating the power of the arts to support the development of open, creative and resilient societies and engage South Asian communities. 
Heading regional arts projects where appropriate.
Where else have you worked? 
Creative Economy Assistant, British Council. 
Drama Facilitator, National Youth Theatre, Saudi Arabia Practitioner for the first professionally commissioned show in Saudi Arabia's history.
How did your qualification or your time at Sheffield help you in your career? 
My degree provided the tools to interrogate literature and academic text and formulate my own ideas and arguments in a coherent, articulate and effective manner.
I was drawn to Sheffield because it allowed me to explore contemporary theatre practice and had excellent in-house experience and expertise in dramaturgy and the dramatic canon.
My time with the University theatre company (SUTCo) was an invaluable experience and allowed me to grow creatively and pursue my interest in theatre and acting further. I also made great friends.
What is your greatest achievement to date? 
Being a part of the first professionally-commissioned theatre production in Saudi Arabia, performing to members of the royal family.
What advice do you have for students who would like to pursue a career like yours?
Be open-minded. Your career won't be a linear journey; you may have to do jobs that don't always suit your interests or ambitions. But always think of the people you're meeting, skills you're learning and environments you're exposed to.
If you're driven, you'll get to where you want to be with perseverance. Be prepared to change your mind and evolve- we are human beings after all.
What do you look for in graduates you hire? 
Ability to work in a team and get the best out of people; being creative, kind, open-minded, resourceful, self-sufficient, honest; being accountable - proof you get things done and to a high standard.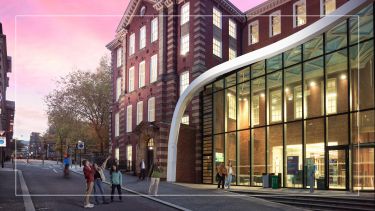 Visit us
Discover what sets Sheffield apart at our undergraduate open days on the Saturday 21 October or Saturday 18 November.