The School of Law is a community that thrives on mutual respect, encouragement and commitment to excellence in the student experience, teaching and research.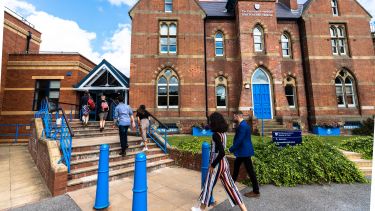 We provide world class learning and teaching, and carry out research of global relevance. We aim to be recognised for our engagement with society, and our international outlook, as a top UK Law School. We offer you opportunities to achieve your full potential, challenge you to realise your ambitions, and prepare you for a successful career. 
Study with us, and you'll be taught by international experts. Our teaching staff includes leading academics, who help to shape the law and criminal justice in global society. We also offer a wealth of hands-on experience in practice and consultancy outside of academia, in a number of legal jurisdictions worldwide.
All our students, from their first undergraduate year with us, benefit from this expertise, through small group teaching.
Professors teach on both our undergraduate and postgraduate programmes.
Our teaching is research led, keeping your learning at the forefront of your subject
Our undergraduate and postgraduate degrees are flexible, giving you the choice to specialise in your areas of interest, and to prepare for your career path of choice.
A world top-100 university
We're a world top-100 university renowned for the excellence, impact and distinctiveness of our research-led learning and teaching.