We understand how important choosing the right university is for you and your future. That's why we've put together some information to help you decide whether Sheffield is right for you.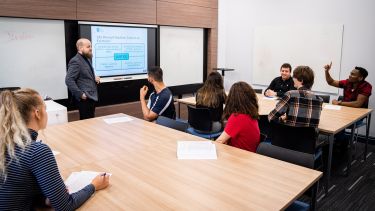 Our courses are uniquely structured to give you the opportunity to tailor your course to your interests. You will study important core subjects early on in your degree, giving you the chance to choose from a wide range of optional modules and shape your career path. 
We regularly refresh our module choices to reflect the latest research of our staff, and to ensure that our students have the chance to debate and research the most challenging and contemporary questions in law and criminology. Some of our new modules cover topics such as Brexit, populism, digital lawyering, international human rights law advocacy, and criminology and war.
---
We are focussed on providing you with the skills that employers value, ensuring that when you graduate you are prepared for the global workplace. We work with local, regional, national and international firms and have excellent connections with senior criminal justice professionals across the world. 
We offer a number of pro bono schemes which provide you with the chance to help and advise real clients. You will have the opportunity to work in our FreeLaw Clinic, fight injustice with our Miscarriages of Justice Review Centre, and gain work experience with our commercial clinic for start up businesses, CommLaw.
We also offer a range of other activities, such as mooting and extra-curricular courses on commercial awareness and legal technology.
---
We have designed all of our programmes to ensure that all of our students have the chance to study abroad in their third year, if they choose to do so. With a vast number of partner universities around the world, all of our students can study abroad, no matter their course and irrespective of whether they are proficient in a foreign language. 
Our students do amazing things on their year abroad, and develop the skills of cultural agility that are highly valued by leading employers. Through our study abroad programmes, you can take the time to experience another legal system and culture, make lifelong friends, and enhance your employability prospects.
---
With some of the world's leading experts in law and criminology, our staff will encourage you to develop the skills, knowledge and values that you can apply to some of the most important contemporary debates in law and criminal justice.  
Our research informs our teaching: our staff bring the latest theories and findings from their research into the lecture theatre and seminar room to help you make sense of some of today's 'big questions' in law and criminology. Our staff will help you to grapple with new ideas and ways of thinking, and the distinctive design of our programmes means that you will have the chance to explore the issues that excite you the most.
---
We understand that your university experience is more than just studying. We are as proud of our city as we are of our University. Sheffield is one of the UK's most creative, greenest, safest, cheapest and culturally significant cities. You'll struggle to find a city that can surprise you like Sheffield. With the Peak District on our doorstep, a city to explore, and over 350 clubs and societies across the Students' Union, there is something for everyone. Read our guide to Sheffield and find out why so many students choose to study here. 
Explore the University
Discover why Sheffield is the right choice for you at one of our open days or events.