Life in the School of Law
Sheffield offers one of the best student experiences in the UK – we were ranked in the top five universities in the UK for best overall student experience for the eighth year in a row in the Times Higher Education Student Experience Survey 2018.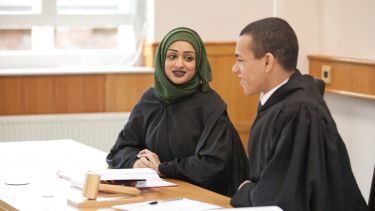 Student experience
There is a lot going on and it can be difficult to know what to do or where to start. You can meet new friends, learn new skills, get more active, volunteer, and discover more about yourself.
As a student, you will have access to hundreds of opportunities to make your university experience unforgettable, which will make you even more employable when you graduate. Find out about the range of opportunities available to you, through our Students' Union, as a University of Sheffield Student.
---
Enhance your degree
We provide a wealth of opportunities for development and learning experiences beyond the classroom.
Careers and employability
From our in-house careers adviser to skills seminars and workshops delivered by lawyers and other professionals, as well as a wide variety of careers fairs, there are lots of opportunities for you to enhance your CV.
Careers in law, criminology and more
---
Pro Bono
We support and run a variety of pro-bono schemes within the School, designed to benefit the most vulnerable people in society and to give students the opportunity to resolve real legal problems. Taking part can help you develop your skills and enhance your employment prospects.
---
Mooting
A moot is a mock trial of a legal issue. Mooting provides you with the opportunity to argue a fictional case as if representing a client. With our very own moot court, the School of Law takes part in national and international competitions, allowing you to meet members of the judiciary as well as giving you the chance to win mini-pupillages.
---
Student societies
In addition to the 200+ societies on offer in the Sheffield Students' Union, the School of Law have departmental societies which you can join.