A moot is a mock trial of a legal issue. Mooting provides students with the opportunity to argue a fictional case as if representing a client.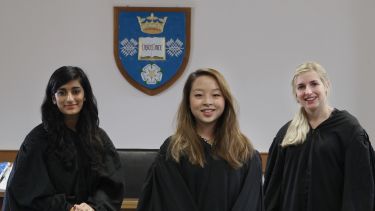 Off
With our very own Moot Court, the School of Law takes part in national and international competitions, allowing students to meet members of the judiciary as well as giving students the chance to win mini-pupillages. Mooting events are organised by the committee of the Bar Division of Ed Bram, assisted by the Director of mooting.
Mooting experience is essential for any student considering a career as a barrister. It is also really useful for anyone considering a career as a solicitor or indeed any career which will involve public speaking!
A range of internal and external events are organised each year:
Internal Events

'give it a go' sessions and Novice moot for beginners
Plea in mitigation and Bail application competitions
the Internal moot
Training sessions

External Events

External events vary each year. Competitions are selected by the committee of the Bar Division of Ed Bram. Competitions students participate in regularly include

Landmark Chambers Property Moot Competition
Oxford University Press mooting competition
National Law Student Triathalon at the University of Kent
The Supreme Court Moot competition

International Mooting

International mooting opportunities may arise. The School of Law encourages and supports entry into International competitions.
Benefits of Mooting
Mooting allows students to develop skills and confidence in
Presenting a legal argument in a court setting
Advocacy and public speaking
Teamwork
Organisation
Assimilating facts into succinct points and arguments
Putting legal issues into context
Legal writing and legal research
Critical analysis
Skills gained through mooting can help to improve overall understanding and knowledge of certain areas of law - useful for academic study. Mooting is a key legal skill, but one that's transferable to many other professions outside of the traditional legal career path. 
Getting Involved
Mooting is open to all University of Sheffield UG and PG students.
Internal competitions are open to all, regardless of whether students are members of The Edward Bramley Law Society or not.
To participate in external competitions students must be members of The Edward Bramley Law Society.