Addressing Racism Today - A conversation with the UN Special Rapporteur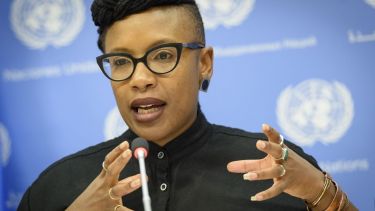 In this conversation with academics from Central European University (CEU) and the University of Sheffield, Professor Tendayi Achiume, the UN Special Rapporteur on contemporary forms of racism, will reflect on global racial injustice and inequality today and what needs to be done about it. The discussion will address such issues as:
contemporary racism against the backdrop of today's formidable and complex challenges including COVID-19 pandemic, the climate emergency, socio-economic inequality, migration flows and 'racial borders', and surveillance capitalism;
the impact of the global awakening to racism in the aftermath murder of George Floyd in May 2020 – upon governments, companies (especially in the technology sector), multilateral institutions (including UN bodies), and civil society organizations;
the role of UN experts in addressing human rights abuses around the world in the face of criticism and pressure.
---
The event will be held virtually on:
Wednesday 20 October, 5pm (BST)
---
The event is co-hosted by:
Dr Mathias Möschel. Head, Department of Legal Studies, CEU
Dr Sejal Parmar. Director, Human Rights Forum, School of Law, University of Sheffield, Visiting Professor, CEU
Biography:
E. Tendayi Achiume is Alicia Miñana Chair in Law at UCLA Law School and she is currently also the UN Special Rapporteur on Contemporary Forms of Racism, Racial Discrimination, Xenophobia and Related Intolerance, making her the first woman to serve in this role since its creation in 1993. The current focus of her work is the global governance of racism and xenophobia, and the legal and ethical implications of colonialism for contemporary international migration. More generally, her research and teaching interests lie in international human rights law, international refugee law, international migration, and property. Professor Achiume earned her B.A. from Yale University and her J.D. from Yale Law School. Professor Achiume clerked for Deputy Chief Justice Dikgang Moseneke and Justice Yvonne Mokgoro on the Constitutional Court of South Africa.
The event will be held on Zoom. The link to join will be sent to you on the day of the event once you have registered.